Myntra Mega End of Season Sale Offers 2021
Grab Myntra Mega End Of Season Sale Offers + 8.5% Zingoy Rewards +10% OFF on SBI Credit Cards
Myntra Mega End of Season Sale
Myntra is India's one of the most popular online fashion stores. With hosting sales all year round, we are at the biggest sale of the year for Myntra. The End of Season Sale is one of the most awaited sales for shoppers and shopaholics. These sales offer up to 80% Off on a wide range of categories like clothes, accessories, footwear, and much more.
Myntra End of Season Sale not only brings sales on products, but they have amazing Myntra offers for new users, bank and wallet discounts, rush hour and much more. You can grab Myntra EOSS 2021 styles and rands with the help of Myntra coupons and deals.
Myntra Mega End of Season Sale 2021 Dates and Full Schedule?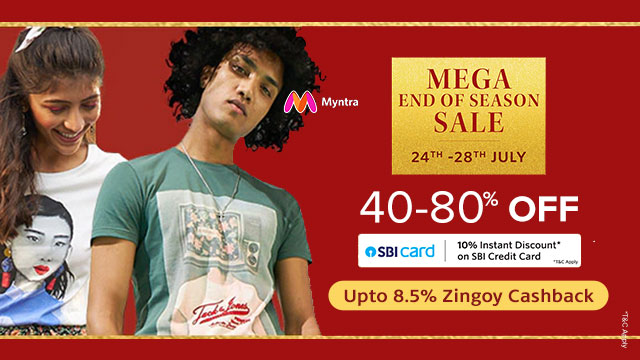 The Myntra End of Season Sale 2021 will last five days, giving you a total of 120 hours to shop to your heart's desire. There will also be early access for select, elite and insiders, let take a look at the dates and time of Myntra EOSS 2021.
Myntra End of Season Sale 2021 Offers & Best Deals on Zingoy!
Zingoy is India's largest Coupon Hub and a place where there is always a discount coupon for you. You can Find exclusive Myntra coupon discount and coupon codes on Zingoy and get a good savings on your order on EOSS 2021.
Myntra End of Season Sale 2021 offers discounts ranging from 50% to 80% off across all categories for men, women, and children. It's time to enjoy the Myntra End of Season Sale offers and discounts, which will be available on the Myntra app or website for you all, as well as the best deals and discount coupons!
Myntra EOSS 2021 Highlights
All branded products will be offered at reduced prices, allowing you to flaunt brand new items for half the price that your friends pay! If you haven't heard of some of the finest discounts offered during the Myntra End of Season Sale 2021 season, here's your chance:
SBI Bank Offers.

Ethnic wear for men, women, and kids at a special price

4-Hour Gold Pass

Buy 1, Get 4 Free (Wish listed)

Myntra First time users offer – Get Rs 500 Off + 1 Month of Free shipping.

Bundle Mania – Buy 1 Get 1 Free

Budgets Buy for Men's shorts, Women's Clothing sets and more.

Myntra online shopping for women's dresses, tops and more

Get up to 50-60% OFF on brands like Mufti, Casio, Lavie, etc.
Myntra End of Season Sale SBI Bank Offer and more
To make things even better Myntra is offering discounts for SBI bank credit holders, to earn cashback and save on their orders. Feel like the shopper royalty as Myntra ensures that the best is provided to Myntra's special clients and SBI's special bank account holders.


Brands to lookout for at the Myntra End of Season
Myntra End of Season Sale has major Indian and international brands, so you can anticipate the greatest products on sale. The Roadster Life Co offers discounts ranging from 40 to 70%, while W offers savings ranging from 40 to 60%. Dress berry, Pepe Jeans, and UCB are also offering up to 70% off. Red Tape and Tommy Hilfiger are two additional labels to keep an eye out for.


Myntra End of Season Sale Discounts for trendy Men
The social norms that Men don't like to shop have been left behind in the 90's. They new era of Fashion forward men loves to shop trendy styles, luxurious brands and get it all on a discount. While shopping can be a good exercise in the mall, it can be trying. Sometimes you just miss out on some things you would really like to shop, Myntra seems the best options for that.
Myntra is offering up to 50-90% Off on Menswear, Men's Footwear, and different accessories at Myntra End of Season Sale. From Spykar to Marks & Spencer, Pepe Jeans to United Colors of Benetton, all brands offer discounted products.
End of Season Sale Discounts for fashionista Women
Women do not need to be persuaded to shop; most women are always ready to purchase all the clothes and accessories they desire to fill their wardrobes with! The advantage of online shopping is that women save time and money on travel, which can then be utilised to browse the product range.
At the Mega End of Season Sale, Myntra is giving a minimum of 80% off women's clothes, footwear, and classic fashion accessories. Global Desi, Clinique, Enticer and many more brands.
End of Season Sale Discounts for Cute little Kids
Myntra has not forgotten the little one. With the help of Myntra Coupon Code and discounts you can get up to 70% Off on Kid wear
Mothercare, United Colors of Benetton, and Kittens are some of the brands on sale that may provide your child a new look as well as a new style for their wardrobe. Choose some of the most incredible brands for your children and start a collection.
Myntra's End of Season 2021 sale will begin on July 24th, 2021 and will go till July 28th, 2021! Get ready to Shop apparel and accessories at a 40% to 80% discount!