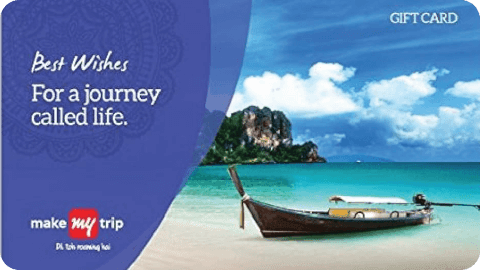 MakeMyTrip Gift Cards & MMT Vouchers
Buy MakeMyTrip Vouchers & E-Gift Cards with Cashback

Highest Cashback

10 Days Protection

Trusted Sellers
About MakeMyTrip Gift Cards
List of MakeMyTrip Gift Cards & E-Gift Vouchers with Cashback
eVoucher Value
Validity Period
Cashback
Rs. 25000.00
Sep 22, 2024
10 %
Rs. 15000.00
Apr 6, 2024
5.33 %
Rs. 10000.00
Sep 19, 2024
19 %
Rs. 7500.00
May 22, 2024
13.33 %
Benefits of using MakeMyTrip gift card offers
MakeMyTriphas been synonymous with traveling, both within and outside India, for a longtime now. Whether it is flight tickets, hotel bookings or holiday packages –and much more, MakeMyTrip has invariably been the platform for choice. Now youcan easily plan a family trip or vacation and save your time using MakeMyTripgift cards. Book domestic and international flights & hotels from any placewithout any hassle.
With MakeMyTrip vouchers,the excitement quotient is, of course, raised many notches higher. After all, not only are you getting the best MakeMyTrip Offers & travel deals, youare also saving money thanks to MakeMyTrip gift card offers.
Why prefer Zingoy to buy MakeMyTrip gift cards?
Inthe quest for obtaining MakeMyTrip gift vouchers, Zingoy has consistentlyproven to be the best destination. After all, this is the only place where younot only get MakeMyTrip vouchers but also enjoy cashback on purchasing them!MakeMyTrip gift cards on Zingoy range from Rs 1,000/- to 2,000/- in value, witha maximum cashback of 2.5%.
This cashback is creditedto your Zingoy account instantly after purchase. You can then either buy moreMakeMyTrip vouchers with that money or simply transfer it to your bank account– that choice is completely yours.
How to redeem MakeMyTrip Flight gift cards & Hotel vouchers?
Receivedor won a MakeMyTrip gift card on your birthday, anniversary or wedding butdon't know what to do with it? Firstly, congratulations on receiving such aversatile gift and secondly, start planning an amazing trip. When you get tothe part of booking tickets or rooms, refer to this short guide on how to use MMTe-gift cards:
Select your flight, hotel or package and proceed to payment.
Here click on 'More Options' and select 'Gift Card' as your payment mode.
Then enter the voucher code and PIN in the appropriate boxes.
Click 'Make Payment', if your total payable amount is higher than the gift card balance, make the remaining payment using any other mode.
Voila.That's how easy it is to use MMT gift vouchers.
How to use MMT e-Gift cards & vouchers with analphanumeric code?
Ifyou have a gift card with the alphanumeric code, then the process variesslightly. In case, you are booking flights and/ or hotels, you just need toenter the voucher code on the payment page.
In the case you are booking a holiday, you need to call or email to MakeMyTrip vouchercustomer care or visit the MakeMyTrip Branches to redeem it.
How to sell unused MakeMyTrip vouchers on Zingoy?
Besidespurchasing MakeMyTrip gift card offers, you can actually sell MakeMyTripvouchers on Zingoy as well. After all, there is always the possibility that yougot MakeMyTrip gift cards on you which you will somehow not be able to availbefore they expire; why let them go waste when someone else could use them?
Keepingthis thought in mind, Zingoy has kept the procedure for selling MakeMyTrip giftvoucher offers really very simple. Just follow the steps mentioned below:

Click on the 'Have MakeMyTrip Gift Card to Sell?' link in pink to the top right of the page.
Type 'MakeMyTrip', which will then take you to a page where you will fill in all relevant details of your MMT voucher such as card number, expiry date, selling price, gift card balance, etc.
With that done, make sure to check the 'Accept Terms & Condition' box and click confirm.
Zingoy will then list your MMT e-gift card along with other available vouchers, once it has been verified.
Based on the balance on your MakeMyTrip voucher and the price you have decided to sell it at, Zingoy will charge a small processing fee.
Finally, you will have to verify your mobile number with an OTP before you can sell any MakeMyTrip gift card on Zingoy.
That'sall! As with the purchase process, when your MakeMyTrip gift card offerattracts a buyer, the money will be credited to your Zingoy account which youcan use to make additional MakeMyTrip (or other) voucher purchases, or evenwithdraw to your bank account.
No wonder then that folksrefuse to look anywhere other than Zingoy for MakeMyTrip gift card offers!
How to check the MakeMyTrip gift voucher balance?
Incase of an MMT e-gift card, you can check the voucher balance in the email inwhich you receive it. In the case of a physical gift card, the MakeMyTrip giftvoucher balance is mentioned in the accompanying letter or on the gift carditself. You can even reach out to the customer care of the MakeMyTrip to checkthe balance of your gift card.
MakeMyTrip Frequently Asked Questions
Q1. How do I cancel or return MakeMyTrip gift vouchers?
A. You cannot cancel or return once the gift card is purchased for an assistant, you can contact our support team.
Q2. How can I activate my MakeMyTrip vouchers?
A. You can visit MakeMyTrip stores and choose the travel and hotel option at the time of booking enter the 16-digit voucher code.
Q3. Can I share the MakeMyTrip vouchers with my friends or family?
A. Yes, you can send gift cards to your friends and family by mentioning the recipient's name in the delivery address.
Q4. Can I use MakeMyTrip gift card for travel and hotel booking?
A. Yes, you can use MMT vouchers for travel and hotel booking.
Q5. Where can I find the MakeMyTrip gift card?
A. You can check the Zingoy store for the MakeMyTrip gift card.