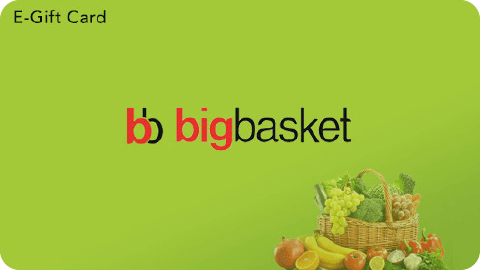 Gift Card Value
Cashback
Effective Price
Validity
Got an unused Gift Card to sell?
SELL NOW

Highest Cashback

10 Days Protection

Trusted Sellers
About Bigbasket Gift Cards
Bigbasket Gift Cards & E-Gift Vouchers Online
eVoucher Value
Validity Period
Rs. 5000.00
6-12 Months
Rs. 3000.00
6-12 Months
Rs. 2500.00
6-12 Months
Rs. 2000.00
6-12 Months
BigBasket: Groceries, Ayurveda, Personal Care, and more Delivered!
BigBasket is an online grocery delivery website and app. It offers a minimum 5-6% discount. DMart offers 7%, but considering online grocery, it is very good. BigBasket also has services such as bbNow (15-30 min delivery), bbInstant (for corporates), and bbDaily (delivery every morning). It also has a 90-min delivery service. Coming from TATA, BigBasket is a trusted platform, and gives quality service in a quick time. You can order groceries, ayurveda, personal care, and many other daily essentials here.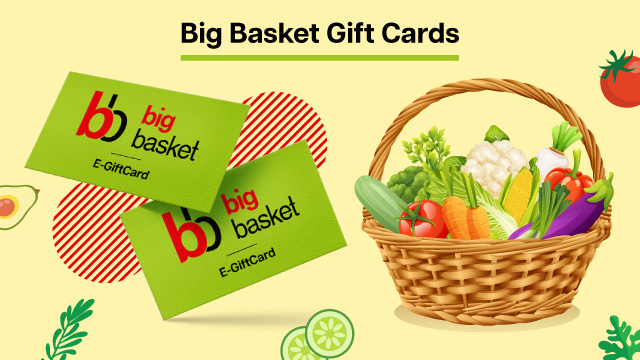 What are BigBasket e-Gift Vouchers?
BigBasket e-Gift Vouchers are digital certificates for shopping free on this platform. However, if your order amount exceeds the voucher value then you need to pay the difference. BigBasket e-Gift Vouchers come with a voucher code and PIN. Simply, apply both of these at checkout to successfully redeem your vouchers. BigBasket e-Gift Vouchers are meant to be given to your employees, friends, relatives, or any other loved ones so that they can shop their favorites hassle-free!
Save with BigBasket e-Gift Card Offers & Cashback!
There are many BigBasket e-Gift Card Offers available which will help you get a discount. Moreover, Zingoy can get you cashback! You can redeem this cashback for other brand gift cards or bank transfer!
You may come across offers which might even get you BigBasket gift cards for free! Additionally, apply BigBasket coupon codes for more discounts. Besides, you earn TataNeu Coins on every order which can be redeemed on upcoming orders. Bank & Wallet offers are also available here.
Other Popular Gift Card Offers – E-Gift Card & Vouchers | Zomato Gift Card | Swiggy Gift Card | Dineout Gift Cards | Wakefit Gift Card | Baskin Robbins Gift Card | Cult Fit Gift Card | Grofers Gift Card | Health And Glow Gift Card | ITC E-Store Gift Card
Bigbasket Frequently Asked Questions
Q1. How to redeem a BigBasket gift card?
Add products to cart, and at checkout, pay via gift card by entering your BigBasket gift card code and PIN.
Q2. How to check BigBasket gift card balance?
You can check your BigBasket gift card balance in the 'Gift Card' section of your account.
Q3. How to add a BigBasket gift card?
Simply visit the 'Gift Card' section on BigBasket, and enter your code and PIN to add it to your account.
Q4. Can we use BigBasket Gift Cards online?
Yes, you can use BigBasket Gift Cards online on its website and app.
Q5. How to buy Gift Card from BigBasket?
You can buy BigBasket Gift Cards from this page itself. What's more, you can earn a cashback!