Highest Cashback

10 Days Protection

Trusted Sellers
About Zomato Gift Cards
List of Zomato Gift Cards & E-Gift Vouchers with Cashback
eVoucher Value
Validity Period
Cashback
Rs. 10000.00
6-12 Months
4 %
Rs. 5000.00
6-12 Months
4 %
Rs. 4100.00
Dec 31, 2023
0%
Rs. 3000.00
6-12 Months
4 %
About Zomato Gift Card & Vouchers
Zomato Gift vouchers are best way to pay online food order bills using Zomato Platform. You can grab Zomato gift card at discount price on Zingoy with it's cashback offer. Zomato gift vouchers are consists of 16 digit code and 6 digit pin. You can use the gift card to purchase eligible products on
www.zomato.com
and Zomato mobile application. Shop for Zomato gift vouchers today on Zingoy and grab 5% cashback.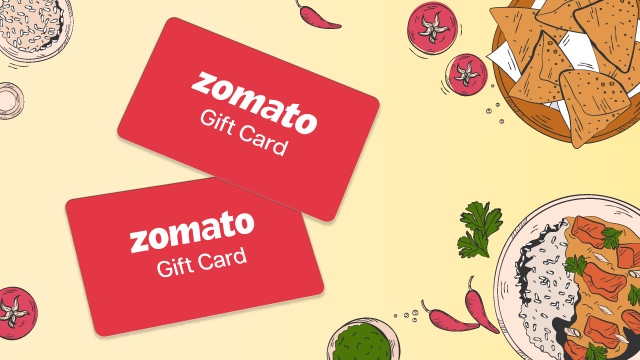 Validity of Zomato Gift Cards
Zomato gift vouchers are valid for 1 year from the date of activation. You can redeem it on Zomato App's "Zomato Credits" section. Claimed Zomato vouchers are not transferable to another account nor cashable to bank account.
How does Zomato Gift Card Work?
Zomato Gift cards works same way as you have used other gift vouchers. Follow the steps to redeem and use the Zomato Gift card -
First Buy a Zomato Gift voucher online from Zingoy gift card & cashback platform.
Go to profile section of your Zomato platform and check for "Claim gift card" option on Credits & Gift Cards.
Now check your mail or Zingoy app to get 16 digit Zomato gift voucher code and 6 digit secret pin.
Enter the details to claim your gift card and add it on Zomato credits
Finally, you can order your food items and checkout amount will be deducted from your Zomato credits.
Zomato Frequently Asked Questions
Q1. Is Zomato Gift Card free?
No, Zomato gift card is not free but Zingoy can help you get big discount on purchase of Zomato gift voucher online.
Q2. Does Zomato Have a gift card?
Yes, Zomato has gift card or e-gift voucher options for easy payment or family & corporate gifting also. You can buy Zomato gift cards online from Zingoy.