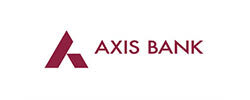 Apply Axis Bank Credit Card Online with Cashback Offers
Top Cashback Rates
True Affluent Cards
New customer - (Vistara Infinite, Magnus Credit Card, Axis Bank Atlas Credit Card)
Existing customer - (Vistara Infinite, Magnus Credit Card, Axis Bank Atlas Credit Card)
Emerging Affluent Cards
New customer - (Privilege Credit Card, Vistara Platinum, Vistara Signature, Axis Bank Select Credit Card, SpiceJet Axis Bank Voyage Black Credit Card)
Existing customer - (Privilege Credit Card, Vistara Platinum, Vistara Signature, Axis Bank Select Credit Card, SpiceJet Axis Bank Voyage Black Credit Card)
Retail Card
New customer - (My Zone Visa Card, Indian-Oil Axis Bank Credit Card, Axis Bank Flipkart Credit Card, Axis Bank Health Credit Card, SpiceJet Axis Bank Voyage Credit Card, Pride Signature Card, Flipkart Axis Bank Super Elite Credit Card, Samsung Axis Bank Signature Credit Card, Axis Bank Ace Credit Card)
Existing customer - (My Zone Visa Card, Indian-Oil Axis Bank Credit Card, Axis Bank Flipkart Credit Card, Axis Bank Health Credit Card, SpiceJet Axis Bank Voyage Credit Card, Pride Signature Card, Flipkart Axis Bank Super Elite Credit Card, Samsung Axis Bank Signature Credit Card, Axis Bank Ace Credit Card)
Axis Bank Neo Credit Card LTF
Existing, ETB & ETCC customers
Know Your Cashback
Cashback Tracked in
48 Hours
Redeem Cashback in
45 Days
Missing Cashback Tickets NOT Accepted
No Cashback Tracking on App
Maximize Cashback Tracking
Conversion Flow:

1. User Fills all the details.
2. User Successfully Submit Application.
3. Once the Card Dispatch.

4. Lead is counted & credited.
Target Audience : Age > 24 years

·Income> 3 Lakhs PA
·CIBIL- 750+

Validation Criteria: The cards has to be activated for the lead to be confirmed

App tracking not applicable.
Axis Bank Credit Card does not help with missing cashback issue.
Featured Deals
Apply For Axis Neo Credit Card
Get upto 40% off on Zomato

10% off on movies, groceries and online shopping
Minimum 15% off on dining at partner restaurants
Apply Now
Apply for Axis Bank Magnus Credit Card
Expiring In about 2 months
Deal Details
Premium Benefits :
Choose any one voucher worth INR 12,500
from below options:8 Airport
Concierge Services per year
Unlimited lounge accesses
Fees:
Joining Fee: Rs. 12,500
Annual Fee: Rs. 12,500
Apply for Flipkart Axis Bank Credit Card
Expiring In 3 months
Deal Details
Benefits :
Welcome benefits worth Rs. 1,100
Unlimited cashbacks from Flipkart and Myntra and many more
Enjoy our airport lounge access (4 times per year)
Fees:
Joining Fee: Rs. 500
Annual Fee: Rs. 500
Apply Now
Apply for Axis Bank Atlas Credit Card
Expiring In about 2 months
Deal Details
Premium Benefits :
Welcome benefits of 5,000 miles
Accrue 5X miles per Rs 100 spent on travel
Converting EDGE Miles to program partner Miles (1 EDGE Mile = 2 Partner Mile)
Fees:
Joining Fee: Rs. 5000
Annual Fee: Rs. 5000
Apply for Axis Bank Vistara Signature Credit Card
Expiring In 3 months
Deal Details
Premium Benefits :

1 complimentary Economy Premium Ticket on joining
Complimentary Club Vistara Silver membership
Up to 4 additional Economy Premium Tickets on milestone spends
Fees:
Joining Fee: Rs. 3000
Annual Fee: Rs. 3000