Holi Offers 2018: Extra 10% ZingCash Balance + Rs.1000 Zingoy Gift Card Free
Earn Extra 10% ZingCash Balance (Max Rs.50) on your validated Transaction. Shop more & Win 2 Zingoy Gift Cards worth of 500 Free
Best Online Shopping Offers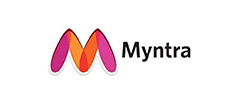 Flat 80% Off On Fashion at Myntra from popular brands
More Details
Offer Details
Myntra Fashion Loot : Now shop for Clothing, Footwear, watches, Fashion Accessories for Men, Women & Kids from top brands and get flat 80% discount. Coupon code is not required. Checkout the landing page for more details.
+ Upto
5.2%
Zingoy Cashback
Shopclues End Of Season Sale : Upto 90% Off on Various Category Products
More Details
Offer Details
Shop from Fashion, Home & Kitchen, Footwear, Mobiles & Tablets, Jewellry & Watches, Appliances, Toys, Baby & Kids, Mobile & Laptop Accessories, Automotive, Computers, Sports & Health, TV,Audio & Large Appliances and more from top brands & get up to 90% discount.
+ Upto
₹ 776.0
Zingoy Cashback
Unwind, De-stress and Make a Splash this Holi
Grab Special Holi Offers on Zingoy
The loudest, most colorful festival of India is here. It is the time when you have the license to get dirty and indulge in light-hearted mischief with friends, family, and even strangers. That's the main idea behind the Holi festival- to loosen up, have some fun and celebrate with great food, drinks, music, and dance. As Zingoy brings you all the special Holi offers from various online stores here, in one place, you can forge new friendships and renew old ones with some amazing Holi gifts and goodies. Be it clothes, food, water guns, or anything else that you need, you will find special Holi offers for it on this page.
Holi Cashback Offers and Holi Coupons for Holi Lovers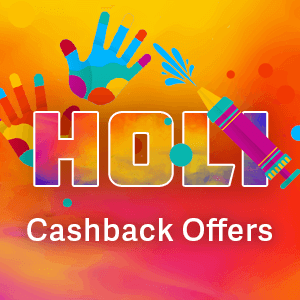 If Holi is your favorite festival, you must have your checklist ready. Will you be playing Holi in an old pair of pajamas and t-shirt or are you planning to buy a special ensemble for it? You can save a great deal of money on that ensemble using Holi coupons or Holi cashback offers on fashion apparels from stores like Myntra, Jabong, Amazon etc. 
Apart from that, you also need the correct Holi footwear, natural eco-friendly Holi colors, mobile covers, car covers, bike covers, some hair care and beauty care products to save your hair and skin from suffering from all the fun and frolic. Worry not; Zingoy has you covered with Holi cashback offers and Holi coupons from numerous stores while shopping online this Holi festival.
What's more, Zingoy offers some amazing Holi cashback offers over and above the regular discounts available. Thus, you save more than others by shopping via Zingoy on Holi.
Holi Sales and Offers You Must Not Miss
In the run up to Holi, many major online stores host sales with various Holi special offers every year. You will be able to catch all the special Holi coupons, cashback offers and promo codes for all those special Holi sales, right here. Some of the best sales and Holi special offers to look out for are:
Amazon Holi Sale: This giant marketplace is one of the first to host a Holi special page, which meets all your Holi needs instantly. Be it Holi gift cards, water guns, balloons, Holi hampers, fashion apparels, Holi party essentials, after-Holi cleaning essentials and even pet-care products; you will find Amazon Holi offers on everything. If you shop on Amazon Holi sale via Zingoy, you get to save more than others in form of some Holi cashback too.
Holi Sale on Flipkart: This online megastore also has a dedicated page where you will find all the Flipkart Holi special offers on all Holi essentials. Some of the most popular among them are the Flipkart Holi offers on mobile phones. In the most festive sale, Flipkart has always given the highest discounts on mobile phones.
While shopping online this festive season, you must also lookout for Snapdeal Holi offers, Shopclues Holi offers, and Freecharge Holi offers.
Buy Holi Gifts and Holi Gift Cards via Zingoy to Save More
Exchanging wishes and Holi gifts during this festival is a tradition. You can save on all your Holi gifts by grabbing the Holi offers on mobile phones, clothes, sweets, laptops, home appliances et al found here. With special Holi promo codes given on specific offers, you can save some extra. All you have to do is copy and paste that Holi promo code at the checkout page while buying your Holi gifts. That plus Holi cashback offers add to your savings. If you have been planning to buy a laptop since a while, this is the best time to buy it, as you will find some really great Holi offers on laptops by various stores during this festival. 
If you are confused about what gifts to buy for the multitude of friends and family, the easiest, safest and best option is Holi gift cards. Zingoy brings you a wide range of Holi gift cards from over 500 stores and brands in one place. However, what's even better is that Zingoy gives you some amazing and instant cashback on buying Holi gift cards via Zingoy. Thus, you save money even on your Holi gifts by shopping them on Zingoy.
Grab Holi Offers & Coupons from Zingoy
Celebrate Holi festival with Zingoy grab maximum cashback on every purchase you make from different stores. Check out some of the top stores were you can avail exclusive Holi cashback.
Holi offers on Flipkart: Shop for the television, refrigerators, air conditioner, microwaves, home furnishing products and more and get Holi cashback offers through Zingoy.

Amazon Holi offers: Shop with Amazon pay balance and get Rs 50 cashback on a minimum order of Rs 250.

Bigrock Holi offers: Get flat 28% off on hosting and 10% off on domain on Bigrock during this festival season. Earn extra Holi cashback using Zingoy coupons and promo code.

Holi offers on Firstcry: Purchase clothing from the top brands and get flat Rs 400 off using exclusively Zingoy coupons.

Get Holi Offers with Extra Cashback on top stores
Make your hole festival more exciting with Holi offers and cashback from Zingoy. Check out some of the Holi offers with the cashback available.
Holi offers on OLA ride use the Holi coupons given to get the extra cashback.
Holi offers on Imagica get flat 15% off on ticket booking along with cashback using Holi coupons.
Holi offers on MakeMyTrip get upto Rs 1000 discount on domestic flight booking.
Holi offers on Ajio get upto 70% off on the top brands.
Holi offers on Firstcry flat Rs 400 off on purchase of products get extra cashback using Holi coupons.
Holi offers on Goomo flat Rs 250 off on domestic airlines along with the cashback using Holi coupons.
Get the Holi special sale offers on Firstcry
Holi offers on kids apparel, footwear & fashion accessories on Firstcry get flat 40% off on the top brands. Along with this offers to get Holi cashback using Zingoy coupons and promo code.
Holi offers on Hometown with cashback
You can get the exciting Holi offers on study tables, shoe racks and storage cabinets and many more from hometown and avail an additional 10% discount along with the Holi cashback offers using the exclusive Holi coupons and promo code.
Grab exclusive Holi coupons from Zingoy
Shop for wide range of categories like clothing, fashion, accessories and more from the top brands like Nearbuy, Zipker along with the discount offers you can get Holi cashback by using Holi coupons exclusively from Zingoy.
Shop on top brands with Holi Offers & Coupons
Enjoy the color festival while shopping with the top stores like Amazon, Flipkart, Jabong and more. Check out some of the Holi sale offers.
Nearbuy Holi offers: Get upto 66% off with 20% extra cashback on food, drinks, spas & salons get cashback using Holi coupons.
Zipker Holi offers: Upto 50% off with 15% Mobikwik SuperCash along with these Holi offers you can cashback using Holi coupons.
Shopclues Holi offers: Upto 80% off on home & kitchen, mobiles & tablets, mobile & laptop accessories, computers, tv, audio & large appliances, fashion, footwear, jewelry & watches, bags & luggage, beauty & perfumes, toys, baby & kids, automotive and more along with these Holi offers get Zingoy cashback.
Flipkart Holi offers: Upto 60% off on balloon combos, pichkari combos, gulal combos, water gun toys, inflatable pools, clothing, makeup essentials, footwear, sunglasses, snacks, dry fruits, audio & video accessories and more along with this Holi offers get Zingoy cashback.

Amazon Holi Offers & Coupons on Zingoy
Grab the festival of Holi with exciting Holi offers on Amazon shop for balloons, rangoli, idols & figurines, puja articles, beauty, deodorants & antiperspirants, facial scrubs polishes, Holi clothing and more. Use Holi coupons through Zingoy and get the Holi cashback offers exclusively through Zingoy.
Check out some of the other Holi offers through Zingoy
Holi offers on Gofynd with Holi cashback
Holi offers on Indian Gifts Portal get upto 30% off
Holi offers on My Vishal get upto 70% off
Holi offers on VLCC get upto 50% off
Holi offers on Voylla upto 50% off on Jewelry with Zingoy cashback
Holi offers on Xoxoday get 30% off on all activities


Extra 10% ZingCash Balance + Rs.1000 Zingoy Gift Card Free : 
*Terms & Conditions :*
Offer is applicable for Select Users* only.
During this offer period, every Select User* will get Extra 10% ZingCash Balance on their validated transaction. Maximum ZingCash Balance of Rs.50 can be avail.
Top 2 highest spenders will win 2 Zingoy Gift Cards worth Rs.500 for Free. Each user is eligible to win only one Zingoy Gift Card depending on his/her earned cashback amount.
For e.g. : During Offer period If user who is transacting and earning cashback of Rs.100 then he/she will be eligible for Extra Rs.10 ZingCash Balance.
Maximum ZingCash Balance can be earn is Rs.50 per user.
Offer is valid from February 26th, 2018 00:00:00 to March 2nd, 2018 23:59:59 IST.
The Extra ZingCash Balance will be added to user's account by : End of 31st May, 2018.
User needs to be registered on Zingoy to avail this offer.
User can avail this offer only once in offer period.
Offer is not applicable on purchase of vouchers in Zingoy.
Definition of Select Users* :
A Select User is one who:
a) Signs up during the offer period at Zingoy.
b) Have signed up with Zingoy but not yet transacted at any online shopping merchant using Zingoy.
c) Is registered Zingoy user but not transacted in last 3 months. (If user had more than one transaction in past but no single transaction in last 3 months, then he/she will be eligible for Extra ZingCash Balance + Free Rs.1000 Zingoy Gift Card)