Freecharge Coupons, Promo Code & Offers
Get latest Freecharge Promo Code & Cashback Offers
Be it recharging your mobile phones, DTH cards or data cards, or paying your mobile phones bills, gas, electricity and other utility bills, FreeCharge brings rewards on everything. Every time you pay bills or buy a recharge with FreeCharge you get discount coupons for food, movie tickets, travel bookings, shopping online, gaming, almost for everything. To make it even more rewarding, Zingoy brings you all the best FreeCharge deals and discount coupons here on a single page. Also, when you pay your bills and buy recharge on FreeCharge using Zingoy, you also earn huge amounts of cashback on all your payments. So, keep paying and keep earning with Zingoy.
Cashback For Shop & Earn
Temporarily No Cashback Available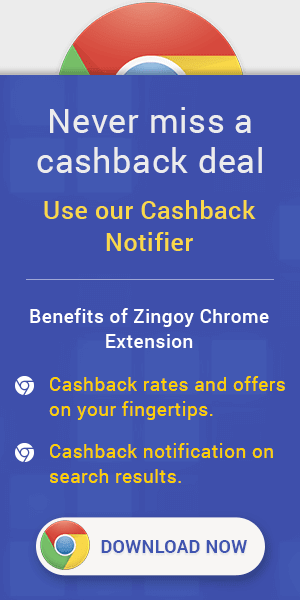 Exclusive Freecharge Cashback Offers with Coupons & Promo Code
More About Freecharge
List of the top Freecharge coupons along with cashback offers
Freecharge Offers Category
Offers
Food Offer: Flat Rs.30 Freecharge Cashback On Zomato
Flat Rs.30 cashback
Get 5% Cashback on Utility Bill Payment on Rupay Cards
Get 5% Cashback
Oyo Winter Sale : Get 38% Off + 1.5% Freecharge Cashback on Recharges
Get 38% Off + 1.5% Freecharge Cashback on Recharges
Get 100% Cashback on Recharge/Bill Pay
Get 100% Cashback
Know About Freecharge Wallet
If you have been planning on going cashless then you need to have access to Freecharge. It lets you make payment for your gas, electricity, landline bills, you can recharge your mobile, buy groceries, book your flights, recharge your DTH, shop and much more. Download the mobile app so that you can carry your digital wallet in your pocket wherever you go.
Pay for your bill and recharge with Freecharge coupons & promo codes
When you pay hefty utility bills every month, you look for discounts so that you could save a bit of money on your bills. Freecharge does take care of the users and it offers a bunch of Freecharge offers and Freecharge coupons to lighten your financial load. Whether you recharge your mobile or make an online payment you can expect great cashback offers like the ones listed here:
Freecharge is a convenient way to pay your online electricity, postpaid and prepaid bills easily. With every recharge or bill payment on electricity or mobile bill, you get extra cashback on Freecharge with Zingoy. Get 100% cashback on your Jio mobile/Datacard recharge using coupons and promo code.

Enjoy your latest movies by booking tickets through Freecharge and get exciting online offers with extra Zingoy cashback. Also, you can travel to your favorite destination and save more on your travel tickets with Freecharge offers additional cashback is available by using Zingoy Freecharge promo code.

Freecharge makes you comfortable to pay the online gas bill, electricity bill, and water bill and also helps to save money but on Zingoy not only can save money on Freecharge but also get extra cashback from Zingoy.

Order food from Freecharge and get exciting offers & deals.
From your mobile and DTH recharge to grocery shopping, everything comes under Freecharge cashback offers, which means you can earn money while making payment. But the best way to make the most out of cashback offers is to avail these using Zingoy which gives you some more cashback on using Freecharge promo codes and offers via Zingoy.
Zingoy makes these special offers even more lucrative, which means now you can earn the extra amount on your exclusive cashback offers if you avail that using links given on this page.
Shop and Share via Zingoy to enjoy more Freecharge Cashback Offers than others
There are a number of cashback sites in the country but Zingoy zooms ahead of these sites thanks to some unique features:
Zingoy brings you better Freecharge cashback offers than other sites

If you don't find the particular Freecharge offer/ coupon here, you just have to create your own Zingoy shopping link of the Freecharge store page using the 'Joy of Sharing' pane on top of this page.

Shop using this shopping link and you will earn the extra cashback on Freecharge via Zingoy

If you share this shopping link with your friends and family, and they use your link, you can earn cashback on their Freecharge transactions as well

Zingoy also has a Chrome extension which reminds you of availing cashback offers from Zingoy every time you visit Freecharge or any other shopping site.
Freecharge FAQs
Q1. Does Freecharge have any offers on particular products or brands?
A. Yes, Freecharge does have such promotions across categories. They run for a number of different brands, examples of which include:

1) Discounts and cashback on online pharmacies like 1mg and Apollo Pharmacy.

2) Attractive cashback on food delivery apps like Zomato and Swiggy.

3) Flat cashback offers at Reliance grocery outlets as well as an online grocery store, BigBasket.

Keep checking out the Zingoy store for many more such attractive offers!
Q2. Does Freecharge have attractive UPI or RuPay offers for me to avail?
A. Yes, Freecharge does have very attractive UPI and RuPay offers. These include cashback offers on electricity, landline and mobile bill payments made via UPI. Additionally, there are attractive cashback offers on utility bill payments made with RuPay cards.
Q3. Does Freecharge have a New User Offer I can cash in on?
A. Freecharge does indeed have a New User Offer you can avail and enjoy when you first sign up. One such offer is 50% cashback on your first recharge or bill pay using the code NEW30.

Confirm all such Freecharge New User Offers on the Zingoy store.
Q4. How do I avail attractive savings using Freecharge?
A. Freecharge has many promotional offers, coupons, and codes that you can use to enjoy tremendous savings on practically every payment you make.

The Freecharge store would be the ideal place for you to confirm all such valid and attractive promotional offers from Freecharge.