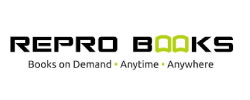 Repro Books Coupons, Promo Code & Offers
Top Cashback Rates
Default Payout
On order of Rs.200 and above
On order of Rs.199 and below
Know Your Cashback
Cashback Tracked in
5 min
Redeem Cashback in
45 days
Accepts Missing Cashback tickets
Cashback Tracking on Mobile Site
Maximize Cashback Tracking
3 orders are allowed per user in a month
Cashback will get tracked at a lower amount and will be correct during validations..
Coupons shared by the Zingoy team are only payable.
Please make sure that your shopping cart is empty in the shopping trip. If it is not empty please empty your cart and visit the store via Zingoy again.
Clear the cookies before going ahead with the transaction.
Cashback is paid on amount excluding shipping, VAT and other charges.
Payment will be made only on validated orders.
Earnings from Mcaffeine can be redeemed as vouchers or in Bank account.
Also Remember
Cashback is not applicable on bulk orders.
Any user can't order more than 2 books in a single order.

Featured Deals
The Blacksmith's Son just at Rs.540
The Blacksmith's Son by Michael G. Manning
Mordecai's simple life as the son of a blacksmith is transformed by the discovery of his magical birthright

Get flat 40% Off
Free Delivery
Guide to investing in Stocks, Bonds, ETFS and Mutual Funds just at Rs. 783
The reader is not expected to have prior knowledge of investing. The book guides the reader to build wealth with modest earnings.

Get flat 13% Off

Free Delivery
The Power of Your Subconscious Mind just of Rs.251
The Power of Your Subconscious Mind by Joseph Murphy
Get flat 9% Off
Free Delivery
Mediocre But Arrogant at Just Rs.260
A quirky read about a confused MBA waylaid by love and life Three years of college, and Abbey has no answer to the question 'what next?'. Luckily for him, fate, that chancy thing, lands him in an MBA course at a topnotch B-School, the Management Institute of Jamshedpur.

Get flat 45% Off
Limited period offer
Free Delivery
From Home to House For Rs. 292
A moving portrait of a community reduced to being tourists in their own homeland. It has been twenty-five years since around 3.5 lakh Kashmiri Pandits were uprooted from their homes in the Kashmir valley due to militancy and changed circumstances

Get flat 35% Off
Free Delivery