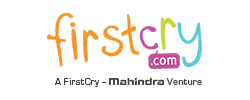 FirstCry Coupons, Promo Code & Offers
Get latest FirstCry Promo Code & Cashback Offers
Asia's largest online baby and kids' store, Firstcry is committed to giving the best products, cheapest prices and quickest, easiest services to all parents and theirs kids. Here, you will get all you need for a mother and child from diapers, clothes, shoes, toys to school supplies, baby gear and even feeding and maternity accessories. Also, with Zingoy, get the best Firstcry deals, share them and earn fat cashbacks on all your maternity and baby shopping.
VALIDATE CASHBACK
60 days
EARN UPTO
Rs. 30 CASHBACK
Exclusive Firstcry Cashback Offers with Coupons & Promo Code
More About Firstcry
Firstcry Coupons & Promo Codes with Cashback Offers
Firstcry Offers Category
Offers & Discount Details
Flat 35% OFF on Entire Dove Range
Flat 35% Off + Upto Rs. 30 Cashback
FirstCry Summer Fashion Promo Code: Flat 40% OFF
Flat 40% OFF + Upto Rs. 30 Cashback
FirstCry Fashion Discount Coupon: Flat Rs.600 Off on Fashion worth Rs. 1199 & above
Flat Rs.600 Off + Upto Rs. 30 Cashback
Flat 50% OFF on Summer Friendly Fashion
Flat 50% Off + Upto Rs. 30 Cashback
Save more on Baby Care Products on FirstCry via Zingoy
As a leading online shopping store for kids, FirstCry not only stocks everything you need for your kids but also ensures that you get them at the most competitive rates. If you feel that you've been spending a lot on baby care products, footwear, toys, car seats, diapers and other, it's time you cut down your expenditure by buying them on FirstCry.
How to get FirstCry Cashback Offers using Coupons & Promo Code from Zingoy?
Zingoy gives you an opportunity to avail attractive FirstCry cashback offers each time you buy baby care products through it. If you always purchase via this page, you are assured of getting value for your money because you'll get the all the amazing offers and coupons as well as enjoy cashback. If you've used FirstCry Coupons and other offers, you definitely know that they come in many types and also depend on the products you buy.
Every time you want any baby care products know that the best platform to shop on is via this Zingoy page. It gives you an easy way of grabbing all the offers and coupons by bringing them to you in one place. Most importantly, it gives you an opportunity to earn cashback over and above the FirstCry offers posted daily. Each time you browse this page, you will not miss coming across hot deals. If you love getting promo codes, then catch the latest FirstCry promo codes here. They are all valid and come bundled with the amazing cashback offers given by Zingoy.
How Not to Miss FirstCry Cashback on Zingoy
The surest way to avail cashback without missing is by adding the Zingoy Chrome extension to your browser so that each time you are browsing FirstCry the extension blinks reminding you that you need to claim your cashback.
Some golden rules for not missing cashback on Zingoy are:
· Keep your browser cookies enabled
· Access FirstCry offers by clicking 'Shop & Earn' buttons on this page
· If you don't find the FirstCry offers of your choice listed here, use the Joy of Sharing pane on top of this page
· Add products to cart after going to FirstCry via Zingoy
· Complete the purchase online
How to Apply FirstCry Coupons & Promo Code while Checkout on Zingoy?
At Zingoy you can check for the wide range of offers available on the store page. Find all the latest available FirstCry promo code on Zingoy and get discounts on kids clothing. Steps on how to apply the given coupons.
1) Visit the FirstCry offer page
2) Check out offers available with promo code
3) Click on shop & earn button on right-hand side choose "Sign in & get cashback"
4) Go to FirstCry offer page apply the available coupons during the checkout
5) Earn cashback for online baby product purchase