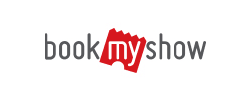 BookMyShow Coupons, Promo Code & Offers
Get latest BookMyShow Promo Code & Cashback Offers
BookMyShow is the biggest online movie booking site that will save your time from standing in a queue. You can book movie, concert or any event ticket through zingoy to get the amazing cashback. Also there is buy 1 and get 1 free ticket offers while booking through your hdfc, icici, induslnd, rbl, bajaj finserve, sbi, citibank and more by using both debit and credit cards.
VALIDATE CASHBACK
60 days
EARN UPTO
Rs. 70 CASHBACK
Exclusive BookMyShow Cashback Offers with Coupons & Promo Code
Save Upto Rs.200 on Avengers: Endgame Movie Tickets Bookings with Bank Cards & Wallets Cashback
Avengers: Endgame Cashback Offers : The grave course of events set in motion by Thanos that wiped out half the universe and fractured the Avengers ranks compels the remaining Avengers to take one final stand in Marvel Studios` grand conclusion to twenty-two films, "Avengers: Endgame."
Expiring In about 1 month
Kalank Movie Offers : Upto Rs.120 Cashback with Amazon Pay Wallet
Kalank Movie Cashback Offers : Pay using Amazon Pay and get 15% cashback up to Rs 120. This offer is valid only for Amazon Pay users on BookMyShow on booking tickets for the movie 'Kalank'. Offer is valid for customers who have verified Indian mobile number associated with Amazon account. Offer valid once per user from 13th to 22nd April 2019
BookMyShow Coupons : Flat 50% Off Upto Rs.100 on Movie Tickets Bookings
BookMyShow Discount Codes : The offer entitles you to a discount of 50% or INR 100, whichever is lower. The offer is valid only for the email ids and mobile numbers on which the communication has been sent. A minimum of 2 tickets need to be purchased to redeem the offer.
+ Upto
Rs. 70
Zingoy Cashback
Save upto Rs.200 on Hellboy Movie Tickets Booking with Select Bank Cards & Wallets Payments
Hellboy Movie Cashback Offers : Based on the graphic novels by Mike Mignola, the film follows Hellboy - the beloved son of the Fallen One who is caught between the worlds of the supernatural and human. This time around, his formidable enemy is an ancient sorceress bent on revenge.
Save Upto Rs.200 on Shazam Movie Tickets Booking
Shazam Movie Coupons : We all have a superhero inside us, it just takes a bit of magic to bring it out. In Billy Batson`s (Angel) case, by shouting out one word - SHAZAM! This streetwise 14-year-old foster kid can turn into the adult Super Hero Shazam (Levi), courtesy of an ancient wizard. Still, a kid at heart-inside a ripped, godlike body-Shazam revels in this adult version of himself by doing what any teen would do with superpowers: have fun with them!
Book Railway Raju Movie Tickets from BookMyShow & Save More.
The film revolves around a star wrestler Raju (Sunny Shaw) from Varanasi who is also involved in underworld activities. He falls in love with a shotgun bride Maya (Lavanya Rao), living along the river Ganges. Raju and Maya's love story is incomplete due to Raju's criminal contacts. Will Maya ignore every aspect of her life and find love in a criminal. Will Raju be able to cut his tie from the underworld and live a peaceful life with Maya? What follows is a roller coaster ride of emotions, violence, and struggles of two different individuals trying to figure out their lives.
BookMyShow Bank Offer: Buy 1 ticket and get 1 free with HSBC Credit Cards
BookMyShow Bank Discount Coupons: This offer is brought to you by The Hongkong and Shanghai Banking Corporation Limited, India ('HSBC') and any participation in the said offer is voluntary. The offer is applicable to Resident HSBC credit cardholders ('Cardholders'). This offer is not applicable to Corporate cardholders. The offer is valid from 18 August 2015 to 31 August 2019 – both dates inclusive ('Offer Period') To avail of the "HSBC Saturday – Buy 1 Get 1 Free" offer, cardholders need to select "HSBC Saturday offer : BOGO on Mobile App" in the "Credit/Debit" section under the "Offers" section on the the Bookmyshow Mobile App and book minimum 2 movie tickets to get 1 ticket free ("Offer") This offer can be availed only once during a month for one ticket only. The customer will have to pay internet handling fee as levied on each ticket.
Get Discount Up to Rs.500 On DBS Treasures Cards
Get 50% off up to INR 500 on bin range : 436370 & 450170 and up to INR 1000 on bin range 450171 with your DBS Bank Signature & Infinite Debit Card. Offer valid on all categories. Valid Till 31-Jul-2019. Valid On Web & App.
BookMyShow Kotak Bank Happy Hours Offer: 25% Off (5pm to 11pm)
Get 25% off up to INR 150 between 5pm to 11pm with Kotak Visa Signature Credit cards. Offer is valid for Movies and Non- movies. Offer is valid from 1st May to 30th April 2019. Offer can be availed for one or multiple transactions up to INR 150 once per month.
ICICI Bank Family Debit Card Offer On BookMyShow
Buy Two movie tickets & Get Two free up to a maximum discount of INR 400. Offer is valid on minimum purchase of four tickets.. Offer is valid till 31st July 2019. Offer can be availed on movies only.
BookMyShow PayZapp Offers : Get 15% Cashback Upto Rs.150 on Tickets Booking
BookMyShow PayZapp Coupons : Get 15% cashback up to INR 150 with PayZapp wallet on Indian Super League only. Offer can be availed once per user, per month during the offer period. Offer Valid till 30th April 2019. Offer is only applicable on Mobile App
IndusInd Premium Debit Card : Buy 1 Get 1 Free on Movie Tickets
Buy 1 Movie ticket and get the 2nd FREE. Offer applicable on IndusInd Premium Debit Cards. Eligible Debit Cards are Platinum Exclusive, Platinum Plus, Platinum Premier, Platinum Select, Signature Select, World Select, Signature Exclusive,World Exclusive, Signature and Titanium Plus Debit Cards
BookMyShow Digibank Debit Card Offer: Flat 30% Off on Movie Tickets
Get 30% discount on value of 2 movie tickets with your Digibank Debit Card. Maximum discount per transaction is INR 500. Checkout the landing page for more details.
More About BookMyShow
BookMyShow Coupons & Promo Codes with Cashback Offers
BookMyShow Offers Category
Offers & Discount Details
Save upto Rs.200 on Hellboy Movie Tickets Booking with Select Bank Cards & Wallets Payments
Hellboy Movie + Upto ₹ 10.0 Cashback
Kalank Movie Offers : Upto Rs.120 Cashback with Amazon Pay Wallet
Kalank @120 Cashback + Upto ₹ 10.0 Cashback
BookMyShow Coupons : Flat 50% Off Upto Rs.100 on Movie Tickets Bookings
50% Off Code + Upto Rs. 70 Cashback
Save Upto Rs.200 on Avengers: Endgame Movie Tickets Bookings with Bank Cards & Wallets Cashback
Avengers: Endgame Offers + Upto Rs. 70 Cashback
Book Your Movie Tickets Online through BookMyShow
Moviegoers in the country just love BookMyShow as it lets them book tickets without any hassle. They no longer have to stand in long queues to buy tickets. This online ticketing portal makes things super easy for them: Just go to their site or, download the mobile app and get going. Apart from movies it also lets you book tickets for plays, sporting events, concerts etc.
Get BookMyShow Cashback Offers on latest Hellboy Movie Tickets
Get amazing BookMyShow offers on Hellboy 2019 movie tickets is right here. You will also enjoy some great cashback on BookMyShow if you buy the tickets via Zingoy. Hellboy is a 2019 action, adventure and fantasy movie starring Ian McShane, Milla Jovovich, and Daniel Dae Kim in lead roles. The film has been directed by Neil Marshall and produced by Lawrence Gordon. Another way to save money on movie tickets is to buy BookMyShow vouchers from the Zingoy gift card store and earn instant cashback on them.
Grab all Offers using BookMyShow Coupons & Promo Code via Zingoy
Any moviegoer these days is well aware of the fact that movie ticket prices in any multiplex are too costly, so, in such a situation a discount on movie tickets offers relief to the people. Well, BookMyShow does come up with special offers and coupons from time to time. Special discount offers are available for certain credit and debit card users, some of them can also avail free movie tickets, now add to that the exclusive Bookmyshow cashback offers. The list is pretty exhaustive.
But Zingoy makes it easy for you to get your hands on special BookMyShow coupons & promo codes by bringing them all in one place, here. Sign up for a free account on Zingoy and get going.
However, you can save more than others if you avail coupons and offers via Zingoy. Once you choose the coupon or offer from BookMyShow store page, click the "Shop & Earn" button, choose your show and tickets and make the payment. If there is a BookMyShow promo code, you have to copy it from Zingoy and paste in a box at the payment page. There are free movie tickets, instant discount offers and flat cashback offers to take advantage of. Every time you book a ticket on BookMyShow via Zingoy, you will earn extra cashback, over and above the regular BookMyShow offers and coupons.
Benefits of accessing exclusive BookMyShow Offers & Promo Code on Zingoy
Shopping via Zingoy links comes with its own benefits which you won't find anywhere else. It is easier for you to get top cashback offers here because it is the best cashback offers site, which partners with over 200 brands and stores.
We track your order within 3 days and credit the amount to your account.

You get better cashback offers than others and get more financial benefits.

You can access all the ongoing offers on one single page

Zingoy mobile app keeps you updated about all exclusive offers

You can share your own Zingoy link with others to get cashback on their shopping

Get ready to grab some hot cashback offers on BookMyShow via Zingoy.
Types of Offers you can catch on BookMyShow with Zingoy Cashback
BookMyShow Movie Offers: Enjoy movies with your friends and family by booking online tickets through BookMyShow. Save on BookMyShow latest offers by using discounted coupons and promo code that is available at Zingoy so you can save money plus enjoy the movies, events etc.
BookMyShow Bank Offers: BookMyShow brings you the exclusive offers on banks as BookMyShow is tied up with some of the partners like RBL, ICICI, Indusland, IDBI, HDFC, and SBI banks. If you are using any of these bank cards you can get more discount on any online booking.
BookMyShow App Offers: You can easily install the BookMyShow App through the play store. While using the App you can grab check for all the latest offers available on BookMyShow. Using App you can save your time and you can quickly buy your tickets online from any place and get cashback with valid coupons and promo code from Zingoy.
BookMyShow Festival Offers: Grab BookMyShow special offers and discount during the occasions like Diwali, Holi, Valentine's Day, Christmas, New Year. Don't miss to use the BookMyShow promo code available only at Zingoy.