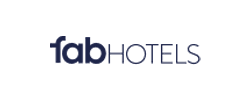 FabHotels Coupons, Promo Code & Offers
Get latest FabHotels Promo Code & Cashback Offers
Looking for a budget stay for your holiday? FabHotels will arrange the best for you at the most affordable price. Here you will find the most economical hotels, inns and B&Bs, strictly audited, with the best housekeeping procedures and a hassle-free experience. However, you can save a lot more on your next trip with some amazing FabHotel deals and discounts that Zingoy brings you here. With Zingoy, you will also get to earn a great deal of cashback on hotel rooms that you or your friends book on FabHotel, every time.
Exclusive FabHotels Cashback Offers with Coupons & Promo Code
FabHotels Offer : Signup and Get Rs. 750 on 1st 5 Bookings for new users only
Signup and Get Rs. 750 on 1st 5 Bookings
Users can get Rs. 750
Offer valid to new users only
Amount can be used in first 5 bookings
No Coupon Code is required
FabHotels RBL Bank Coupons: Upto 40% Off On Bookings+ Get Flat 30% Off
Pay with RBL Bank & Get Flat 30% Off.
No minimum booking amount to qualify for the discount.
To avail the offer apply coupon code.
FabHotels Frequently Asked Questions
Q1. Can I be eligible for additional discount on bookings made on the FabHotels mobile app?
A. Yes, FabHotels frequently has special deals and promotions which only apply to hotel bookings made on its mobile app.
Q2. Does FabHotels haveany promotions which might apply across the board at all its hotel properties,or perhaps only at particular locations?
A. FabHotels has an eclectic combination of both. For instance, there are seasonal promotions that are site-wide and apply at all its properties. Many last-minute deals also apply at properties across multiple locations.

At the same time, there are discount offers/coupon codes which apply to hotel properties at select locations only.
Q3. Can I save more when I use select Wallets and/or Bank Cards to make FabHotels payments?
A. Yes, you can! FabHotels frequently runs promotions on various Digital Wallets and Bank Cards where, depending on the chosen mode of payment, you can be eligible for additional cashback or discount.

Again, accurately confirm such offers on the Zingoy FabHotels store.
Q4. Does FabHotels have an attractive New user offer I should not miss out on?
A. Yes, there are attractive discounts on the first bookings made by FabHotels New Users. Make sure to grab the coupon code for that on the FabHotels store!
Q5. What is the best way to save on FabHotels stays?
A. FabHotels runs various promotional offers that come with additional discounts and incentives on regular hotel stays. Using these, you can easily save on your frequent FabHotels stays.

Yes, the Zingoy FabHotels store would be a great place for you to look up all such offers at a single location.