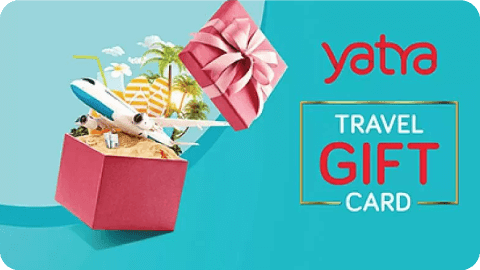 Yatra Flight Gift Cards & Vouchers
Buy Yatra Flight Vouchers & E-Gift Cards with Cashback

Highest Cashback

10 Days Protection

Trusted Sellers
About Yatra Flight Gift Cards
List of Yatra Flight Gift Cards & E-Gift Vouchers with Cashback
eVoucher Value
Validity Period
Cashback
Rs. 10000.00
6-12 Months
8.5 %
Rs. 5000.00
6-12 Months
8.5 %
Rs. 3000.00
6-12 Months
8.5 %
Rs. 2500.00
Jan 27, 2024
4 %
Yatra Gift Cards (Instant Voucher) To Book Travel Tickets And Much More
Travelling has been an added expense to the budget of every Indian family. It gets even more expensive when you plan to travel by flight. To make things a little easier on your pocket, you can try the Yatra gift vouchers available on the Zingoy website. We are sure that these Yatra vouchers will not only increase your savings but each of cards you buy will also provide you with an instant cashback that you can use in the future to buy any other brands' vouchers.
Process To Buy & Add Yatra Gift Vouchers Through Zingoy?
Many people complain that a friend or relative gave them Yatra gift cards that they don't intend to use. If you are one of them and you don't want the money to go to waste then you should trust the website to help you sell unwanted Yatra vouchers. Just provide your phone number and a few details of the card like expiry, number amount, benefit, etc. and post your unused Yatra vouchers on the website. As soon as a buyer purchases them at the price you set, you will get most of it in your account while Zingoy charges a small fee.
Apart from selling Yatra gift vouchers, you can also buy some other gift vouchers for your own personal use like shopping, dining etc. Just sign up or log in with your account choose from the varied Yatra Vouchers on this page. Add them to cart and pay for them within the 12-minute deadline because after this time is over, the Yatra gift vouchers you selected will be removed from the cart and you will need to add them again. If you are looking for vouchers from other stores, just type the brand name in the search bar given on top of this page and you will be able to see the gift cards of that store.
Tips for First Time Buyers of Yatra Gift Vouchers?
Visiting Zingoy for Yatra gift card for the first time? Here are some tips:
Read the description before buying any vouchers to make sure you get the most suitable deal.

Choose the ones you like by opening their information in new tabs and add the ones you like to your cart at once so that you don't miss out on the ones you like when you are looking for other Yatra Gift Card Offers.

Check whether you got the promised cashback in a few minutes

Always sign in before availing any vouchers from Zingoy.