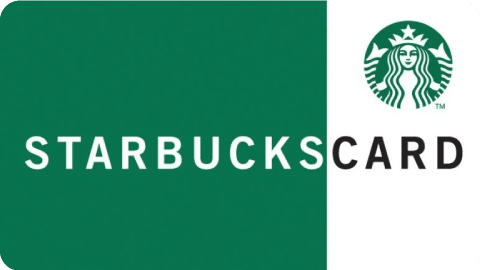 Gift Card Value
Cashback
Effective Price
Validity
Got an unused Gift Card to sell?
SELL NOW

Highest Cashback

10 Days Protection

Trusted Sellers
About Starbucks Gift Cards
List of Starbucks Gift Cards & E-Gift Vouchers with Cashback
eVoucher Value
Validity Period
Cashback
Rs. 1000.00
6-12 Months
5.5 %
Rs. 500.00
6-12 Months
5.5 %
Rs. 300.00
6-12 Months
5.5 %
Rs. 250.00
6-12 Months
5.5 %
Starbucks Gift Card: Best Gift Voucher for Coffee Lovers!
Starbucks is a very well-known franchise that has engraved its name in every mind. Its long range of coffee and very calm workplace always attract all corporate workers who just need a place to focus. So what's better than getting a valuable Starbucks gift card if you are a coffee lover too? Not only do they provide the most finely crafted and brewed coffee, but they also offer free beverages to those who have their birthdays on the day of their visit.
So if you are planning to surprise someone on their birthday, a Starbucks gift voucher might add more light to their day.
Starbucks Voucher Discount for You
Starbucks is a really great place for chilling out with friends or for even making it your workplace. Although getting a Starbucks gift voucher is really a great thing, wouldn't it be better if you could get a discount on it? Here comes Zingoy, increasing that joy of yours! When purchasing a gift certificate at Zingoy, you can get some exciting discounts, especially during the festive seasons. So don't miss out on such a great opportunity.
Starbucks Gift Certificate Cashback
Along with some discounts and offers, Zingoy also provides you with assured cashback when you purchase a Starbucks gift token or other brands' gift cards. The fixed cashback that you are bound to get with your Starbucks voucher is 2%. Also, if you use OlaMoneyPostpaid, you can get a cashback of up to ₹500. The same goes if you pay with Mobikwik Wallet, which gets you up to ₹500 cashback with your gift card.
Starbucks Gift Card India Price
We have three value-for-money Starbucks cards for you that can be purchased directly from Zingoy. These Starbucks vouchers come in three prices, ₹250, ₹300, and ₹1,000. But, these are the actual values that you get with any Starbucks gift card. While, the price that you would pay is going to be lesser, after the applied offers and cashback. Thus, Zingoy becomes the best place for you to buy Starbucks gift vouchers with the best prices too.
Starbucks Gift Cards Validity
All Starbucks gift tokens at Zingoy come with a validity ranging from 6 months to 12 months. So once you get your voucher, you don't have to rush to Starbucks to redeem it instantly, you can wait and enjoy your time as you prefer…quite convenient, isn't it?
Related Stores: Pizza Hut, KFC, Dominos, Baskin Robins, Swiggy, Cafe Coffee Day

Frequently Asked Questions
Having doubts about something that you haven't tried before is nothing wrong and helping you with your questions and doubts is our pleasure. So, here are some questions that are asked often about Starbucks gift cards:
Starbucks Frequently Asked Questions
Q1. Can I Use a Starbucks Gift Card as Cash?
Although a Starbucks gift certificate is no different than cash when you use it to buy something from the store, you cannot redeem it for cash in India as of now. Certain states in other countries might enjoy such facilities but in India, you can't get cash by using your Starbucks voucher. But you can surely sell your gift token here at Zingoy.
Q2. Can I Use Starbucks Gift Card in India?
Yes, definitely! All Starbucks stores/outlets in India will help you redeem or use your card easily.
Q3. How Do I Redeem My Starbucks e-Gift Card?
Redeeming your Starbucks card is quite easy too. Here are the steps for the same:
Download the Starbucks app on your iPhone or Android smartphone.

Create a 'My Starbucks Rewards' account or log in to an existing one.

Enter your card details.

Now when you order something online from Starbucks, simply use the card while checking out.

If you walk into a Starbucks outlet, you can scan their e-gift card QR code (the staff may help you) to pay and redeem your Starbucks voucher.
Q4. How Do I Get a Starbucks Gift Voucher?
Getting a Starbucks gift voucher is no big deal. Actually, you are in the perfect place for it too. Here at Zingoy, you can buy a Starbucks gift card ranging from ₹300 to ₹1,000. These gift cards are offered at discounted prices and you can get them quite easily. Also, the prices for these Starbucks are lesser during festivals and special occasions too. Though, there is one thing that needs to be taken care of first.