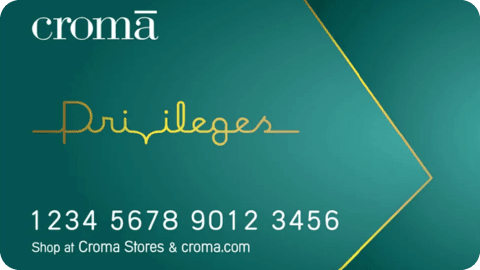 Gift Card Value
Cashback
Effective Price
Validity
₹2,000
No Cashback
₹2,000
6-12 Months
₹1,000
No Cashback
₹1,000
6-12 Months
Got an unused Gift Card to sell?
SELL NOW

Highest Cashback

10 Days Protection

Trusted Sellers
About Croma Retail Gift Cards
Croma Retail Gift Cards & E-Gift Vouchers Online
eVoucher Value
Validity Period
Rs. 2000.00
6-12 Months
Rs. 1000.00
6-12 Months
Why Thousands of Users Buy Croma Gift Voucher from Zingoy.com?

Considered as one of the largest retail chains for consumer electronics and durables, Croma Retail is trusted by thousands of customers due to its exceptional product range, premium quality, and affordable pricing. If you are interested in owning consumer electronics or durables that last long and perform well through the years, you should trust Croma and think of buying a Croma gift voucher from Zingoy.com. Once you trust Zingoy.com for a Croma gift voucher, you will be tempted to buy it again and again.
Save Your Time with a Croma Voucher
When you visit Zingoy.com to buy a Croma voucher, you will end up saving a lot of time. Just sign up/ log in, find the store, find a deal and make the purchase. All this can be done within 3 minutes if you have a good internet connection and are able to find the best Croma voucher instantly.
Variety of Croma Gift Cards
You will always find a lot of Croma gift cards on Zingoy.com thanks to our thousands of users and an active backend team. Filter them on the basis of price, validity and the reliability of the seller to ensure that you find the most suitable one among Croma gift cards on Zingoy.com.
How to Buy a Croma Gift Voucher Online?
You can easily buy a Croma gift voucher online by visiting Zingoy and following the below steps:
Go to Zingoy and visit the Croma Gift Cards & Vouchers page

Choose the gift voucher you need as per your budget

Read the given terms and conditions

Once accepted, proceed to the payment

Add the email address you'd like to receive the E-gift card on

Use any available discount offers if applicable to make the transaction

After a successful transaction, you'd receive an e-voucher of Croma in your given email ID
You can use this Croma gift voucher online on the website of Croma to purchase any products of your choice. By using a Croma gift voucher, you also get to save some extra on your purchases. To increase these discounts & savings, you can also use our Croma discount offers, cashback & deals.
How do I Redeem Croma Gift Card?
To redeem Croma gift card online, follow these easy steps:
Vist the Croma electronics online store on its official website

Select the product you wish to buy

Proceed to the checkout page

At the check out window, in the "Payments Option" select "gift card" as your means of payment

Add the 16-digit Croma gift card number that you have received from Zingoy in your email

Proceed to the payment
Zingoy makes it easy for you to track your order history of gift cards, so you can easily view your used and unused gift cards in your dashboard. Note that once you redeem a Croma gift card on their official website, you cannot reuse the same gift card again.
Instant Cashback on Several Croma Gift Card Offers
Instant cashback is the biggest reason people trust Zingoy.com for Croma gift card offers. Every time you buy a Croma gift card via Zingoy, you get amazing cashback on it. You can use the cashback you received to buy more Croma gift card offers in the future or just transfer the funds to your bank account. It's as easy as that.
Exceptional Customer Service
The customer service team of Zingoy.com always ensures that your experience of visiting us is nothing short of delightful. We are always there to help you select the right Croma voucher by letting you know how many people have used it and we are here if you face any problems in doing the transaction or signing up with us.
Selling Unused Croma Gift Cards on Zingoy
If you are stuck with Croma gift cards that you don't need or want, you can sell them on Zingoy easily, because this is a gift card buying and selling platform too. Just use the 'Sell Gift Card' link given on top right corner of the website and you will be able to get some money for the Croma gift card lying unused in your inbox/ wallet.
Always There
Another reason most users are repeat customers of Zingoy.com is that we are always here. We work hard to add more stores to our existing database and make the sale or purchase of gift cards as easy as it can be. We have no plans of stopping, but instead, we plan on growing so that you can get every gift card you can dream of on our website. You would love it, won't you?
Croma Retail Frequently Asked Questions
Q1. Is there any validity period for using Croma vouchers?
Generally, the validity period for a voucher is 1 year from the date of purchase.
Q2. Can I use Croma gift vouchers to purchase other gift cards?
No, you cannot use Croma gift cards to purchase another gift card.