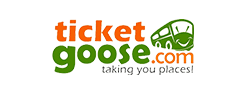 TicketGoose Cashback Offers
Get all Cashback Offers from TicketGoose
Started in 2007, TicketGoose is one of the most trusted online portals for online bus ticket booking in India. With over 1,800 bus operators on offer, TicketGoose provides the cheapest and most reliable mode of travel on your fingertips. Here you can compare bus ticket prices, select your seat, pay securely and recieve your tickets on SMS. To make your travel even more enjoyable, Zingoy brings you all TicketGoose offers and deals in one place. Also, you can earn some amazing cashback everytime you travel by booking all your tickets on TicketGoose via Zingoy. You can also share your Zingoy TicketGoose links with your friends and family and earn more cashback on every booking they make via your links.
Cashback For Shop & Earn
Temporarily No Cashback Available
Exclusive Cashback Offers from TicketGoose
Ticketgoose Offer : Upto 20% Off bus Booking for Top Routes
Choose your Bus Tickets from top routes like Chennai-Madurai, Bangalore-Bagalkot, Delhi-Agra, Jaipur-Ahmedabad, Chennai-Coimbatore, Shirdi-Hyderabad, Chennai-Thirunelveli(Nellai), Thirunelveli-Chennai, Coimbatore-Bangalore, Chennai-Trichy, Pune-Mumbai, Pune-Goa, Nanded-Pune, Hyderabad-Goa, Hyderabad-Guntur, Nagercoil-Chennai, Bangalore-Hyderabad, VIJAYAWADA-Visakapatnam, VIJAYAWADA-Hyderabad, Hospet-Bangalore, Bangalore-Bijapur, Hyderabad-RAJAHMUNDRY, Bijapur-Bangalore, Bangalore-Hyderabad, Pune-Nagpur, Nagpur-Hyderabad, Trichy-chennai, Chennai-Nagercoil, Nagpur-Surat, Pune-Hyderabad, Bangalore-Goa, Bangalore-Coimbatore, Bagalkot-Bangalore, Gokarna-Hampi, Bangalore-Bagalkot, Hyderabad-Pune, Guntur-Hyderabad, Bangalore-Mumbai, Bangalore-Chennai, Nagpur-Hyderabad, Pune-Latur, Delhi-Agra, Delhi-Allahabad, Hyderabad-Bangalore, Hyderabad-Visakapatnam, Hyderabad-TIRUPATHI, Bangalore-Gadag, Bangalore-Udupi, Delhi-Ahmedabad, Bangalore-Udupi, Tuticorin-Chennai, Chennai-Bangalore, Delhi-Allahabad, Bhopal-Ahmedabad, Agra-Udaipur, Bangalore-Mangalore, Bangalore-Belgaum & More.