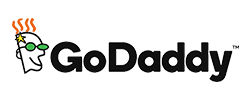 GoDaddy Coupons, Promo Code & Cashback Offers
Get latest GoDaddy Promo Code & Cashback Offers
VALIDATE CASHBACK
60 days
Exclusive GoDaddy Cashback Offers with Coupons & Promo Code
GoDaddy Deals : Upto 77% Off on Domains, Hosting, Email Marketing, SSL Certificates, etc
GoDaddy Offers & Coupons : Now Get 77% Off on Managed Wordpress hosting, .com Domain at Rs.149/month, 50% Off on Web Hosting, 25% Off on Email Marketing, 30% Off on New Domain Extensions, 35% Off on Microsoft® Office 365, 20% Off on Professional Business Email,
GoDaddy Domain Offer : Upto 50% Off on Domain Purchase & Services
GoDaddy Domain Cashback: You can't have a website without a domain name. Like a street address that tells people where you live, a domain helps customers drive directly to your website. Get up to 50% Off on Domain Name Search, Bulk Domain Search, New Domain Extensions - New, Domain Broker, Personal Domains - New, Domain Services, Domain Transfer, Domain Privacy, WHOIS, Auctions, Domain Auction, List A Domain, Tools, Pricing, Domain Investor Tools, Discount Domain Club, Domain Backorder, CashParking®, Domain Investing services.
Godaddy Website Offer: Create your Professional Email at Just Rs.39/month
Individual professional Email is Ideal for getting your business up and running. Team Professional Email is Great for collaboration with everyone on your team.
Take your Business Online at Rs.79/month
For just ₹ 79.00/mo*, here's what you get: A domain, A professional email address, A business card website, 24x7 expert support .
Expiring In about 1 month
GoDaddy Professional Email Services from ₹ 39.00/mo per user
GoDaddy Promo Codes : Did you know customers are 9x more likely to choose a business with a professional email address?+ With a memorable, domain-based email account, you'll promote your company with every message.
GoDaddy Discount Offer : Save 30% or more on New Domain Extensions
The competition for some of the new domains will be fierce. So to increase your chances of getting the domain name you want, we suggest you pre-register. For all pre-registration phases, GoDaddy will automatically submit your application to the registry the instant the phase opens. Which means you'll be at the front of the line to claim your new name.
GoDaddy Email Marketing from ₹ 449.00/month (52% Off)
Get Up to 5,000 subscribers, Add more anytime, Send up to 50,000 emails/month, Unlimited signup forms, Unlimited image storage, Professional templates, Mobile-friendly designs, Unsubscribe handling, Works with Facebook, Etsy & More, Automated email campaigns, Converts blog posts to email, Unsubscribe options, Date-triggered emails, Record signup IPs, Share statistics w/others.
GoDaddy Web Hosting Offer : Plans from ₹ 99.00/month (60% Off)
GoDaddy Cashback Sale : Get Unlimited websitesºº, Unlimited storage, Unmetered bandwidth, Free Business Email - 1st year, Free domain* with annual plan, New - PHP 7.0, 7.1, 2X processing power & memory (Linux w/ cPanel only), Premium DNS, 1-year SSL certificate†† to secure customer data and increase search rankings. (Restrictions Apply)
GoDaddy Wordpress Offers: Managed WordPress from ₹ 99.00/month (77% Off)
GoDaddy Promo Offers: GoDaddy handle the hosting setup and management dirty work so you can focus on creating an amazing website. Supports upto 5 websites, 50 GB SSD storage, 8,00,000 monthly visitors, SSH/SFTP access, Free domain with annual plan, One-click staging site, 1 SSL certificate – 1 year free (₹ 4,399.00 renewal annually), Pro Sites multi-site management too.
GoDaddy Website Builder at ₹ 69.00/month only
GoDaddy Cashback Offers : Build a better website in less than an hour with Starting at ₹ 69.00/month was ₹ 389.00 after trial ends. Cancel anytime. Get Responsive mobile design, Website hosting, 24/7 support, Security (SSL), Search Engine Optimization (SEO), Email Marketing, Social Media Integration, Globally-Optimized Speed, Built-in shopping cart with fast checkout, Accept credit cards, debit cards, net banking and wallets, Configure shipping and tax rates, Offer discounts and coupons, Manage orders and inventory, Abandoned cart recovery.
GoDaddy Microsoft® Office 365 Offer: Upto 60% Off
GoDaddy Microsoft® Office 365 Promo Offer: Office 365, with the 2016 desktop apps, was designed to simplify your life. All the features you know and love are right where you remember them, while new features let you do your best work on any device. Improved performance for Office programs you use most – Excel, Word, Outlook & PowerPoint. Seamless integration with OneDrive lets you easily save and access files anywhere, on any device. Rebuilt for cross-platform users who switch between Windows and Mac. Real-time co-authoring in Word for PC lets multiple users edit the same document at the same time. OneNote desktop application for Mac users
+ Upto
7.04%
Zingoy Cashback
More About GoDaddy
GoDaddy Coupons & Promo Codes with Cashback Offers
GoDaddy Offers Category
Offers & Discount Details
GoDaddy Professional Email Services from ₹ 39.00/mo per user
Upto 10.5% Cashback
GoDaddy Deals : Upto 77% Off on Domains, Hosting, Email Marketing, SSL Certificates, etc
Upto 77% Off + Upto 10.5% Cashback
Take your Business Online at Rs.79/month
Business Offer @Rs.79/month + Upto 10.5% Cashback
Godaddy Website Offer: Create your Professional Email at Just Rs.39/month
Email at Just Rs.39/month + Upto 10.5% Cashback