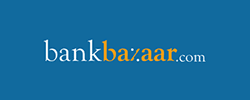 Bank Bazaar Home Loan Coupons, Promo Code & Offers
Featured Deals
Get Lowest Interest on Home Loans with Bank Bazaar
Now apply for Home Loans from Bank Bazaar and save more.
Choose your Bank Partners & your requirements online & get lowest interest rate for your flexible loan.
Bank Bazaar Home Loans Offer: Avail Home Loans Upto Rs.10 Crores
Avail home loans up to Rs.10 crore with interest rates starting at 8.40% p.a. with additional benefits such as extended loan terms and flexible repayment options.