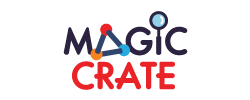 MagicCrate Coupons, Promo Code & Offers
Get latest MagicCrate Promo Code & Cashback Offers
VALIDATE CASHBACK
60 DAYS
Exclusive MagicCrate Cashback Offers with Coupons & Promo Code
MagicCrate 12 Months Plan Offer : Buy at Rs.533
Avail for MagicCrate 12 Months Plan for Rs.533 | Worth Rs.6399
Expiring In about 1 month
MagicCrate 6 Months Plan Offer : Buy at Rs.566
Avail for MagicCrate 6 Months Plan for Rs.566 | Worth Rs.3399
Expiring In about 2 months
MagicCrate 3 Months Plan Offer : Buy at Rs.699
Avail for MagicCrate 3 Months Plans at Rs.699 | Worth Rs.1899.
Expiring In about 1 month
Magic Crate Discount Offer: Toys Starts From Rs. 200
Buy learning toys for your lil ones starting at just Rs.200
Expiring In about 2 months
Magic Crate Discount Offer: Upto 20% Off On Plan
Looking for something that is fun AND educational at the same time. Invest in Your Child's Future by choosing Magic crate Plans. Now avail upto 20% discount on plans.
More About MagicCrate
List of the top MagicCrate coupons along with cashback offers
MagicCrate Offers Category
Offers & Discount Details
Magic Crate Discount Offer: Toys Starts From Rs. 200
Starts From Rs. 200 + Upto ₹ 350.0 Cashback
MagicCrate 3 Months Plan Offer : Buy at Rs.699
Buy at Rs.699 + Upto ₹ 350.0 Cashback
MagicCrate 6 Months Plan Offer : Buy at Rs.566
Buy at Rs.566 + Upto ₹ 350.0 Cashback
MagicCrate 12 Months Plan Offer : Buy at Rs.533
Buy at Rs.533 + Upto ₹ 350.0 Cashback