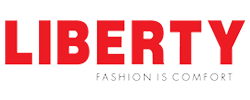 Liberty Coupons, Promo Code & Offers
Featured Deals
Windsor Men's Black Formal Shoes at Rs.2199
This Formal shoe for men is appropriate to be worn when you have to walk on tough terrains. This shoe is manufactured using direct injection technology. The upper is manufactured using drymill leather and the sole using PU. This is a slip on shoe and extremely convenient to wear. This shoe comes with the five sensors tehcnology which provide maximum comfort to the foot and work on the pressure points of the foot providng adequate comfort and support to the foot.
Kids Shoes Starts From Rs.72
Shop for slippers, ballerinas, school shoes, casual shoes and more at great prices. Range starts from price as low as Rs.72
The Wedding Collection: Starts From Rs.200 [Shoes, Sandals, Heels & More]
Shop for party ready formal and shiny shoes for men, heels, flats, studded slippers for women and more at great discount.