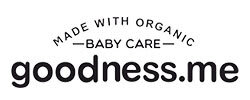 GoodnessME Coupons, Promo Code & Offers
Get latest GoodnessME Promo Code & Cashback Offers
Exclusive GoodnessME Cashback Offers with Coupons & Promo Code
GoodnessME New User Offer : Get Flat 15% Off on All Products + Extra 15% Instant Discount on first Order
Get Flat 15% Off on All Products + Extra 15% Instant Discount on first Order
No Coupon Code required
Limited Period Offer
Goodness.Me MADE WITH ORGANIC MULTI-PURPOSE CLEANER 1 L- Rs.582
MRP Rs.685
goodness.me's Made with Organic Multi-Purpose Cleaner (1 L) is a super-safe solution made with organic lemon, organic aloe vera, bio- cleansing agents, and food-grade ingredients. This makes it suitable for cleaning bottles, toys, teethers, tables and other surfaces, and fruits and vegetables as well. It ensures that your little explorer eats, plays, and learns in a germ-free world while gifting you a worry-free day.

Expiring In about 2 months
CERTIFIED ORGANIC BABY HEAD-TO-TOE FOAM WASH 400ML- Rs.855
MRP Rs.900
goodness.me's Certified Organic Baby Head-to-Toe Foam Wash is a foam-based 3-in-1 gentle cleanser that keeps your baby's hair, face and body clean, smooth and irritation-free.

CERTIFIED ORGANIC BABY SOAP (2U X 100 G)- Rs.360
MRP Rs.400
Contains: This pack has 2 units (100gm each) of goodness.me Certified Organic Baby Soap
goodness.me's Certified Organic Baby Soap is a super mild soap that gently cleanses your baby's skin, leaving it moisturised after every bath.
MADE WITH ORGANIC BABY WIPES- Rs.180 (72 Wipes)
goodness.me's Baby Wipes are super-soft wipes made with Organic Aloe Vera and Organic Rose Water. From gently cleansing baby's skin to tenderly moisturising it, they help keep baby's skin naturally cool.
72 wipes in a pack
Get Free Shipping on Orders above Rs.500 + Extra 5% Instant Discount on Prepaid Orders
Shop for baby laundry & hygiene, baby wipes, baby massage oil, baby bath products, baby lotion & cream, baby diaper rash cream and more
Get Free Shipping on Orders above Rs.500 + Extra 5% Instant Discount on Prepaid Orders
No Coupon Code required
Limited Period Offer
More About GoodnessME
List of the top GoodnessME coupons along with cashback offers
GoodnessME Offers Category
Offers
CERTIFIED ORGANIC BABY SOAP (2U X 100 G)- Rs.360
10% Off
CERTIFIED ORGANIC BABY HEAD-TO-TOE FOAM WASH 400ML- Rs.855
10% Off
Goodness.Me MADE WITH ORGANIC MULTI-PURPOSE CLEANER 1 L- Rs.582
10% Off
GoodnessME New User Offer : Get Flat 15% Off on All Products + Extra 15% Instant Discount on first Order
10% Off