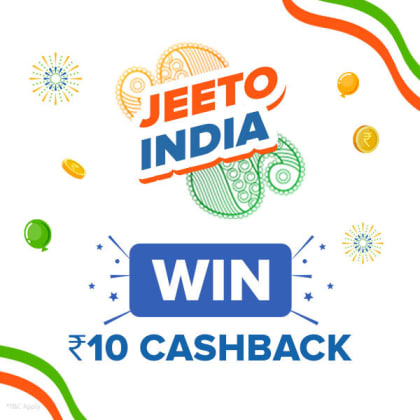 You Missed It!!
Zing of the Day Sale everyday, 12PM with exciting products
Jeeto India on Republic Day: Pay Rs 1 & Win Rs 10
E-Mail Delivery
Buy Refundable Rs 1 Voucher via Zingoy Web, m-site or app from 26th Jan at 10:00 A.M. until 11:59 P.M. on 26th Jan 2022 to qualify for the contest.
First 26 users will win Rs 10 Zingoy Cashback and thereafter every 26th User will win Rs 10 Zingoy Cashback.
Rs 1 cost for the voucher is refundable and only taken as a participation token. You can expect the refund of Rs 1 token by 2nd February 2022.
Valid for new and existing Zingoy users only once per user.
No Shopping from any store is Required in order to participate in the contest.
Zingoy Cashback worth Rs 10 will be credited to eligible winners by 2nd February 2022.
Winners Guide:
This contest will begin on 26th Jan at 10AM so first 26 winners will win Rs 10 each.
After first 26 winners every 26th user will win Rs 10 Zingoy Cashback. For eg: After first 26 users participating or purchasing this Rs 1 voucher, 52th, 78th, 104th, 130th user and so on in multiples of 26 will win.
Seller Information
Sold by
Zingoy Rewards Private Limited
Non Cancellable
Non Returnable
Want to buy this product in bulk?
Want to sell your products?