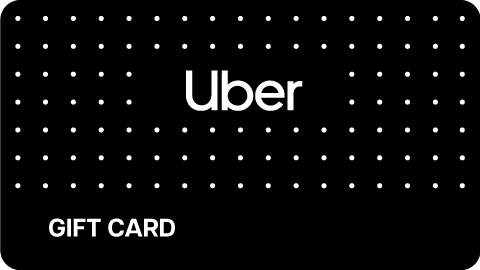 Uber Gift Cards & Vouchers
Buy Uber Vouchers & E-Gift Card Offers
Gift Card Value
Cashback
Effective Price
Validity
Got an unused Uber Gift Card to sell?
SELL NOW

Highest Cashback

10 Days Protection

Trusted Sellers
About Uber Gift Cards
List of Uber Gift Cards & E-Gift Vouchers with Cashback
eVoucher Value
Validity Period
Cashback
Rs. 2000.00
6-12 Months
5.5 %
Rs. 1000.00
6-12 Months
5.5 %
Rs. 750.00
6-12 Months
5.5 %
Rs. 700.00
6-12 Months
5.5 %
Uber Gift Cards & Gift Vouchers
In a rather short span of time, Uber has clearly revolutionized the way we take taxi rides across the world, making things faster, cheaper, and far more convenient. In fact, today you don't just take a taxi ride, you "Uber". Promising to get you the ride you want, Uber has become a household name for so many of us city dwellers. Nowadays, you do not take just a ride, you make use of 'uber'. With budget-friendly prices and easy availability of rides, Uber takes the cake when it comes to online travel bookings on the go.
In this context, we find Uber vouchers on Zingoy to be an added incentive to take Uber rides, making things even more affordable and convenient. Available in a wide variety of denominations ranging from as little as Rs 100/- going upto Rs 1,000/-, you can easily enjoy additional benefits such as cashback on your Uber vouchers.
Benefits of Having Uber Gift Vouchers through Zingoy
Grab-Uber vouchers through Zingoy by following the below steps.
Go to the Uber store page on Zingoy after you have logged in (or signed up just in case it happens to be your first time)

Here, from amongst all the various gift cards you will choose your desired card and then simply 'Add to Cart'.

Next, there is a checkbox towards the top where you will either opt to have the Uber voucher delivered to yourself or to a friend or family, etc. as a gift.

You will have about 12 minutes in all to go through the process (indicated by a timer to the top right of the page), so be mindful of this.

There will be an order summary just below the timer which will confirm the gift cards that you have bought, along with its cashback.

Once payment is completed, the cashback as specified in the previous step will come to your Zingoy account pretty much immediately, which you can subsequently either transfer to your bank account or utilize for subsequent Uber gift voucher purchases.
How to Book Uber Ride with Uber Gift Cards?
No other platform offers the kind of convenience that Zingoy does when it comes to obtaining Uber vouchers.

After all, every single Uber gift voucher denomination is there – right in front of you, to pick and choose from.

On top of that, you also get to enjoy Uber voucher cashback i.e., you receive a portion of the money that you just spent, back into your Zingoy account. You get even better Uber gift card offers during festivals, sales, and special days.

On Zingoy, you also get to sell Uber vouchers that you don't need or want for ready money. Just click on the Sell Gift Card and follow the process.

You can either use this money for future purchases or even transfer it to your bank account virtually no other comparable platform offers such a dual capability. Check for the latest Uber coupons at Zingoy and save max on your ride.

No wonder then that when it comes to availing lucrative Uber gift card offers, users are only considering Zingoy, whether on its desktop version, its mobile app or even its dedicated mobile site!
Check the Uber Vouchers Balance from Anywhere
You can easily check your Uber balance in your Uber iOS or Android app.

Once the gift card that you have added to your account this can be used as default payment for any rides till the value of the cards is used.

Uber vouchers that have been added you cannot transfer.
Uber Frequently Asked Questions
Q1. Can I use Uber gift card for gifting purpose?
A. Yes, you can send Uber gift card by entering the recipient name at the time of purchase.
Q2. Is there in new user offer available on Uber gift card purchase?
A. Yes new user can get upto Rs 200 cashback using PayPal transaction.
Q3. How can I cancel my purchase Uber gift card?
A. You cannot cancel the gift card once purchased you can contact our support team for any help.