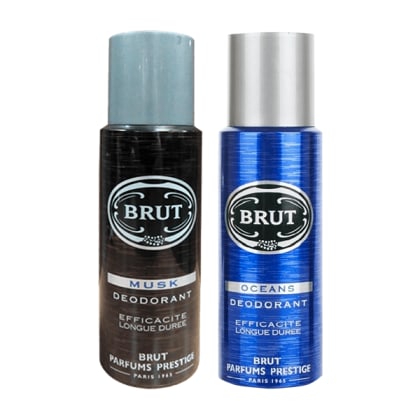 You Missed It!!
Zing of the Day Sale everyday, 12PM with exciting products
Brut Musk + Oceans Deodorant 200ml(Pack of 2)
Free Delivery in 5-7 working days
Brut Oceans Deo Spray Offers Long-Lasting Protection To Get You Through A Hectic Day And Is Perfect For Every Occasion. Oceans Is For The Discerning Man With Luxury On His Mind And Elegant Tastes.
Brut has made this Musk Deodorant Spray for the man who appreciates the finer things in life to give him a gentlemanly aura.Fresh, Distinctive Fragrance, This fresh, masculine fragrance gives you an instant uplift and also has a distinctive scent that stands out in a crowd.
Long Lasting Protection, This refreshing Deodorant Spray protects you from body odour and lasts for a long time.
 Specification:- 
-Pack of:- 2
-Brand :- Brut
-Quantity:- 200ml
-Ideal For:- Men
-Maximum Shelf Life:-36 Months
https://www.youtube.com/watch?v=wqBkCs7OAMk&list=PL299ep5IEw7umYFimnd0R3RXNYSdXT0np&index=1
*This product is non returnable and not cancellable
*Prices in comparison include shipping cost
Seller Information
Sold by
Zingoy Rewards Private Limited
Non Cancellable
Non Returnable
Want to buy this product in bulk?
Want to sell your products?