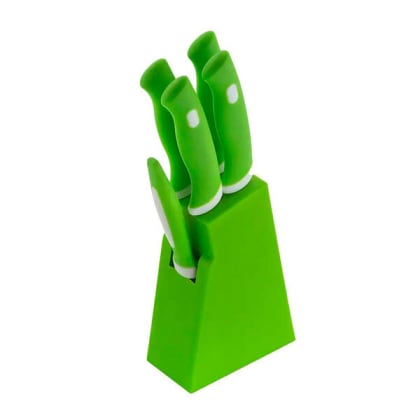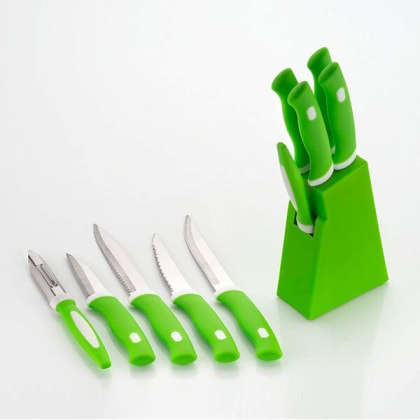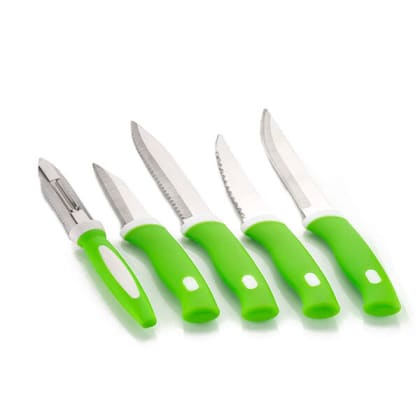 You Missed It!!
Zing of the Day Sale everyday, 12PM with exciting products
5 Pieces Classy Knife Set With Stand- 4 Knife+ 1 Peeler+ 1 Stand (Green)
Free Delivery in 5-7 working days
Enjoy cooking with good quality knives to maximize your ability to cook well.
The Knife Set has six pieces -- all meant to make cutting, chopping, dicing, slicing, peeling etc. a quick and enjoyable process for you.
The knives are all made from high quality stainless steel that holds an edge very well, making sure you get the most from your knives.
Also included is a superb plastic knife holder to organise all your knives at one place.
The ergonomic plastic green coloured handles help reduce the stress on your hand while you cut. Moreover, this set has been designed to optimize your potential in cooking, with its different components.
The set contains a Chef's Knife, a Slicer Knife, a Steak Knife, a Paring Knife, a peeler & a holding stand.



Seller Information
Sold by
Zingoy Rewards Private Limited
Non Cancellable
Non Returnable
Want to buy this product in bulk?
Want to sell your products?