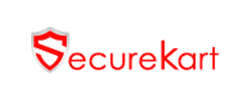 SecureKart Coupons, Promo Code & Offers
Featured Deals
3M V-Flax Mask – 9102IN (Standard Size) AS/NZS P1 and BIS P1, 500/CS | 3M 9102IN Mask (Pack Of 40)- Rs. 566
Purchase this set of 40 masks and protect yourself and your loved ones from dust, viruses, infection.
Parker Vector Durga Puja Special Edition Roller Ball Pen Gift Set At Just Rs.301
Parker Durga Puja Special Edition - Durga Puja is a celebration of the Mother Goddess, and the victory of the revered warrior Goddess Durga over the evil buffalo demon Mahishasura. To celebrate this ancient festival Parker are introducing a Special Edition Parker Vector Roller Ball Pen , which is comprised with an Elegantly designed Goddess Durga imprinted on it.
CP-Plus 1.3 MP IR Cosmic Dome Camera Model - CP-USC-DA13L2 At Just Rs. 920
♦ CP Plus CP-USC-DA13L2 IR Cosmic Dome Camera ♦ 1/3" 1.3 MP HQIS Pro Image Sensor ♦ Max 25/[email protected] ♦ DWDR, Day/Night(ICR), AWB, AGC, BLC ♦ 3.6mm fixed lens (2.8mm, 6mm optional) ♦ IR Range of 20 Mtrs. ♦ OSD Menu, control over coaxial cable, 2D-DNR ♦ HD and SD switchable
Secureye Wireless Wifi Video Door Bell With Wifi Ringer At Just Rs. 9000
Wifi Outdoor Bell+ Wifi Ringer: Wide-Angle Lens camera Compatible with free iOS and Android APP Supports IEEE 802.11b/g/n wireless connection Supports WEP, WPA and WPA2 encryption Supports 12~24VAC(12VDC optional) current Supports two-way audio Supports Motion Detection Alarm P2P feature for easy remote access Support indoor Ringtone "DingDong" sSupport 433M Frequency sSupport 2 Pieces AA Battery sSupport 16 Polyphonic Melody Adjustment
Startek Finger Print scanner Aadhaar, Apna CSC, NDLM, DigiLocker, Jeevan Pramaan Model At Just Rs. 2281
ISO compliant Low image distortion – Startek's FM220U is less than 1%. Fast scanning & matching speed Choice to set different security levels for different application FRR/FAR demand Non-distorted image quality Small template size