VALUE
CASHBACK
EFFECTIVE PRICE
VALIDITY
Got an unused Gift Card to sell?
SELL NOW

Highest Cashback

10 Days Protection

Trusted Sellers
About United Colours of Benetton Gift Cards
List of United Colours of Benetton Gift Cards & E-Gift Vouchers with Cashback
eVoucher Value
Validity Period
Cashback
Rs. 2000.00
6-12 Months
8 %
Rs. 1000.00
6-12 Months
8 %
Rs. 500.00
6-12 Months
8 %
Rs. 250.00
6-12 Months
8 %
United Colors of Benetton India: Men, Women, and Kids Sustainable Fashion
United Colors of Benetton aka UCB is an Italian clothing company. It offers topwear, bottomwear, footwear, and accessories for men, women, and kids in India. As a renowned foreign brand, its products are costly, but are worth it. They also follow a sustainable approach, giving it back to nature. You can shop UCB apparels online as well as from its various retail stores in India.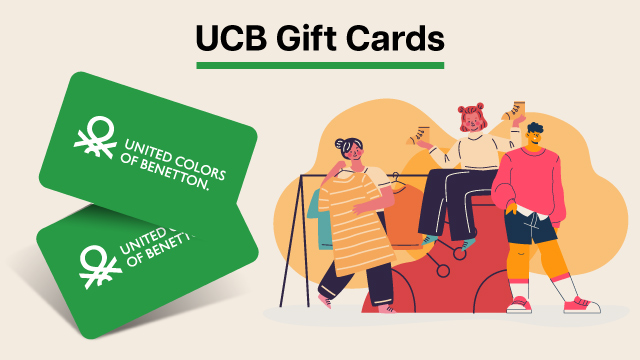 Earn Cashback with United Colors of Benetton Gift Cards!
Yes, you can earn a cashback on purchasing United Colors of Benetton Gift Cards from Zingoy. What's more, you can transfer the cashback amount to your bank account. You can even redeem it for other branded gift cards and earn more cashback! If you have unused or unwanted UCB gift cards then you can even sell them at best prices here.
United Colors of Benetton e-Gift Voucher Benefits
Firstly, you can save (discount/cashback/rewards) on United Colors of Benetton e-Gift Vouchers. Next up, it removes the payment hassle via cash/card/UPI/etc. Finally, it is the best way to show love to your loved ones by giving them UCB e-gift vouchers so that they can enjoy shopping. However, 1 drawback we found is that it says to confirm for UCB gift voucher redemption before purchase. This means that there can be times when some stores won't accept the UCB vouchers. Also, might be rejected during sale days so keep a check.
United Colours of Benetton Frequently Asked Questions
Q1. How do I redeem my UCB voucher online?
You can't redeem UCB vouchers online, only in-store. However, you will receive UCB vouchers by email.
Q2. How do I use my Benetton gift card?
Simply, visit a UCB store, do shopping, and while payment redeem your Benetton gift card. It will be redeemed via a code and PIN. It is recommended to ask whether the UCB gift card will be accepted or not at the start.
Q3. How to use a Benetton gift card online?
You cannot use Benetton gift cards online in India.