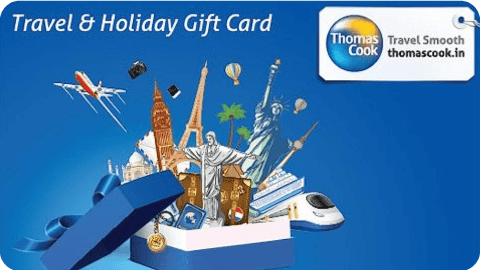 Gift Card Value
Cashback
Effective Price
Validity
Got an unused Gift Card to sell?
SELL NOW

Highest Cashback

10 Days Protection

Trusted Sellers
About Thomas Cook Gift Cards
List of Thomas Cook Gift Cards & E-Gift Vouchers with Cashback
eVoucher Value
Validity Period
Cashback
Rs. 5000.00
6-12 Months
7 %
Rs. 3000.00
6-12 Months
7 %
Rs. 2000.00
6-12 Months
7 %
Rs. 1000.00
6-12 Months
7 %
Travel Made Smoother with Thomas Cook Gift Cards
Whether it is flights, hotels, domestic or international travel packages, forex requirements, or visa services, Thomas Cook has been the go-to agency for millions of Indians over the years.
Armed with a Thomas Cook gift card, the entire travel experience gets even smoother, especially since there are tailored Thomas Cook vouchers for occasions like birthdays, anniversaries, festivals like Diwali and many more.
Assured Savings on Zingoy for your Thomas Cook Gift Voucher
Zingoy offers 4 different varieties of Thomas Cook vouchers, ranging from Rs. 1,000/- to Rs. 5,000/- in value. On each of these, you can enjoy as much as 11% cashback. No doubt, once you do the math, you will be looking at substantial savings on every Thomas Cook gift card purchased through Zingoy!
And mind you, this saving accrues to your Zingoy account instantly since the cashback is credited as soon as you complete your Thomas Cook gift voucher purchase. Once you receive this cashback, you have the option of either using it for subsequent purchases on Zingoy or even to transfer it to your bank account if you wish to.
Earning Cashback on Zingoy for your Thomas Cook Gift Card is Easy
Zingoy has made it really simple to earn cashback on your Thomas Cook gift card. Once you have logged in or signed up, you simply choose your desired Thomas Cook gift voucher and 'Add to Cart'. Once added, you can opt for the gift card either for yourself or to gift someone else.
As soon as you make the payment using any of the various payment options available, you will find the requisite cashback credited to your Zingoy account immediately, which as we mentioned previously, you can use for subsequent purchases or withdraw to your bank account.
You can also sell your unused Thomas Cook Vouchers!
India's highest cashback offers site, Zingoy, not only lets you purchase gift cards of your choice like the Thomas Cook gift card but also gives you the opportunity to sell them. So for instance, if you have a Thomas Cook gift voucher which you do not foresee yourself using, you can easily list it to be sold on Zingoy.
Once the Thomas Cook voucher is bought, the money will straightaway be credited to your Zingoy account, which you can again either use to purchase other vouchers subsequently or transfer to your bank account as you please.
No wonder then that with all these conveniences, travel wanderlusts are making a beeline on Zingoy for Thomas Cook vouchers!