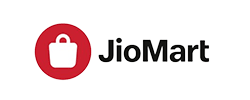 JioMart App Offers: UPTO 80% OFF + Cashback
Top Cashback Rates
New Users
Watches, Shoes, Apparel, H&H
Baby, Health & Personal Care, Beauty, Pet Products, Luxury Beauty Gourmet.
Automotive, Home, Kitchen, Lawn and Garden, Sports/Toys, Furniture, Biss, Home Improvement, Misc SDP, Luggage, Office Products, Books, Stationery/Music.
Consumer Electronics, PC, Wireless Accessory, Home Entertainment, Major Appliances
Existing User
Automotive, Home, Kitchen, Lawn and Garden, Sports, Furniture, Biss, Home Improvement, Misc SDP, Luggage, Office Products, Books.
Baby, Health & Personal Care, Beauty, Pet Products, Toys, Luxury Beauty, Gourmet.
Watches, Shoes, Apparel, H&H.
Consumer Electronics, PC, Wireless Accessory, Home Entertainment, Major Appliances.
Know Your Cashback
Cashback Tracked in
5 min
Redeem Cashback in
45 days
Accepts Missing Cashback tickets
No Cashback Tracking on Mobile Site
Maximize Cashback Tracking
No cashback on electronic purchase
Please make sure that your shopping cart is empty in the shopping trip. If it is not empty please empty your cart and visit the store via Zingoy again.
Clear the cookies before going ahead with the transaction.
Cashback is paid on amount excluding shipping, VAT and other charges.
Payment will be made only on validated orders.
Earnings from JioMart can be redeemed as vouchers or in Bank account.
Also Remember
Reselling/bulk buying is not allowed
Coupon code not provided by Zingoy and are not available on website will not be paid

There is no payout on jewelry category

Featured Deals
Get Flat 65% OFF + Extra 10% OFF on prepaid order
Get flat 65% OFF on Fashion essentials
Also, get 10% OFF on Prepaid order
Apply code to avail the offer
Shop now
More About JioMart.
Save on Groceries with JioMart Everyday

JioMart is an online grocery that delivers across India, began as a shared venture between Reliance Retail and Jio platforms. JioMart delivers daily essentials and groceries at Reliance Fresh and Smart, making your shopping simpler. With JioMart you don't have to shop in crowded markets, you can shop at your own convenience and anywhere you want. JioMart offers various products like fresh fruits & vegetables, rice, dals, oil, packaged food, dairy items, frozen, pet food, household cleaning items & personal care products from a single virtual store, and that too from the top brands.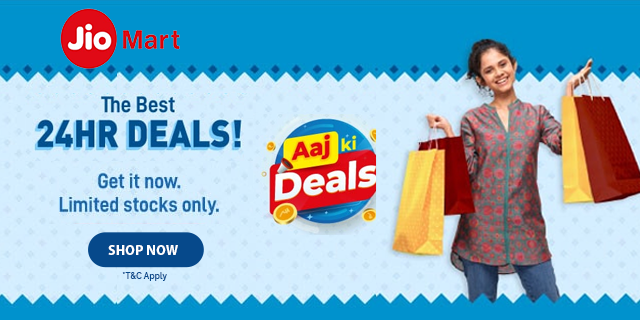 JioMart not only simplifies your shopping experience, in fact, but it also helps you save huge money. All your daily groceries and essentials are available at discounts. You can grab JioMart coupons and Promo codes available at Zingoy and earn cashback as well.
Save Big with JioMart Coupons and Promo Codes
JioMart has a wide range of fresh fruits and vegetables, dairy products, all your kitchen staples like dals, rice, atta, snacks, branded food, beverages, personal care products, home care, and baby care products. You can quickly order any online store items and use JioMart coupons to grab a huge discount on your purchase.

Jiomart Every Wednesday Offers
JioMart recently introduced Wednesday Bonus deals where shoppers can get great deals on fresh vegetables and fruits at great prices. JioMart offers heavily discounted deals on dairy products, snacks, beverages, etc.
Grab the best deals on fruits, vegetables, grocery and food items on
every Wednesday offers. Also, you can save using an HDFC card as you can get a 10% discount JioMart offers using HDFC debit & credit card on the minimum transaction worth Rs 2000.

JioMart Exclusive Coupon Codes
JioMart has all groceries essential in one place so that you can shop everything under one room. While you shop from the online store, you can use JioMart coupon codes to get you discounts up to 20-50% on Sugar, Detergents, or any other product. You can find newly updated JioMart promo codes on the Zingoy JioMart store page.
JioMart Bank Card and E-Wallet Offers Available
While shopping at JioMart if your payment through bank cards you will receive the benefits of additional discounts. Banks like SBI are currently giving up to 10% Cashback on Credit/Debit card Payments. You can also save by paying through e-wallets like Paytm, Mobikwik, and Google Pay.
JioMart Offers for Winter Food Delights
JioMart offers exclusive discounts on select winter food items like groundnut oil, Gulab Jamun Mix, soup pack, pancake mix Nestle coffee, etc. You get up to 30% OFF on all grocery items. There are discounts on winter skincare products, like body lotion, moisturizer, lip balm, etc.
JioMart Return Policy Terms and Contact Details
The return policy of the JioMart is very simple you can return those items if you are not satisfied the payment will be made to your account through which transaction is done. If you have any queries regarding the quality, free delivery service or any exchange service you can call on the given customer care number 1800 890 1222 or WhatsApp on 70003-70003 or email on [email protected] which is available 24*7 to help you out.
Get JioMart Loyalty Points on Purchase
Get Reliance One loyalty points on every purchase you make from the JioMart. Enjoy the discounts with the JioMart coupon code from Zingoy and earn points by making points with purchases. The JioMart loyalty rewards you can redeem anytime on the next JioMart purchase.
How to Redeem using JioMart Promo Code?
You can check for the wide range of JioMart offers available on the Zingoy store page. You can use the JioMart promo code to get discounts on your purchase and even get JioMart cashback.
Follow the steps to avail a promo code -
Visit the JioMart offer page through the search bar on Zingoy.com.
Check out offers available with promo codes.
Click on the shop & earn button on the right-hand side choose "Sign in & get cashback".
Go to the JioMart offer page and apply the available coupons during the checkout.
Earn cashback on Zingoy for online purchases.
Zingoy will record your Activity, and the cashback will be credited as per the T&C.
Latest News from Jiomart Offers & Cashback
JioMart. Frequently Asked Questions
Q1. Is there any free delivery offer on JioMart?
Q2. Can I get discount using my bank card on JioMart?
Yes you can get flat 10% off on Mastercard debit, credit & prepaid cards.
Q3. How can I get JioMart cashback?
To grab extra savings on JioMart shopping you can use Zingoy cashback app which can help you get upto 3.5% cashback on JioMart instantly.