Reading Time:
8
minutes
We spend most of our money on day-to-day shopping like groceries, packaged food, detergents, personal care products, and other daily essentials. Therefore, it is great if we find a way to save money on these daily spends every time as it will multiply into huge savings annually. Thus, we have got you some online grocery delivery apps which will not only save you money but also get you the best of convenience.
Before moving ahead, here are the Best Grocery offers which can save you big! They also contain online grocery stores with coupons and cashback offers!
Zepto: Save on grocery via daily deals
Zepto is a 10-min Instant grocery delivery app. However, usually you get delivery within 15-30 mins due to restrictions like bad weather, heavy traffic, etc. Here you will get daily discount deals on fruits, veggies, staples, dairy products, snacks, personal care products, and other daily essentials.
You can save more on Zepto via coupons, payment offers, vouchers, and Zepto cashback offers. Zepto coupons you will find during checkout under 'Avail offers / coupons'. Zepto new users (create multiple accounts and become a new user😉)are most likely to save big with higher discount coupons and free delivery on 1st 3 orders or so. Others will save 5-25% upto ₹150-300 per order. Usually there will be a min cart value requirement and max discount policy. Also, more your order value, more will be the savings.
The delivery fee here is fixed at ₹35 per order, but becomes free if your order is above ₹99. Also, it gives free delivery to select users with no min order value. During peak hours, bad weather, heavy orders, festivals, and other such situations, they apply a surge charge which increases the delivery fee.
Digital & Pay Later wallets such as Freecharge, Mobikwik, Ola Money Postpaid+, LazyPay, PayZapp, and Simpl have payment offers here. These will save you an additional 5-15% via cashback offers.
You can also save via Zepto refer & earn offers. Here, both you and your friend get a 25% discount coupon upto ₹200. Make sure that your friend applies your Zepto referral code before signing up.
Checkout some of our Zepto orders in Mumbai along with savings. Also find below screenshots for proof.
| | | | | | | | |
| --- | --- | --- | --- | --- | --- | --- | --- |
| Products | MRP | Zepto Price | Coupon Discount | Final Price | Cashback | Final Effective Price | You Save! |
| Ferrero Nutella Hazelnut Spread 180g | ₹220 | ₹198 | ₹50 | ₹148 | ₹22 (Freecharge) | ₹126 | ₹94 |
| English Oven pizza base (4) | Amul cheese block 500g | Thums Up 750ml | ₹425 (₹120+₹265+₹40) | ₹420(₹120 + ₹260 + ₹40) | ₹65 | ₹355 | ₹53 (Mobikwik) | ₹302 | ₹123 |
some of our Zepto orders in Mumbai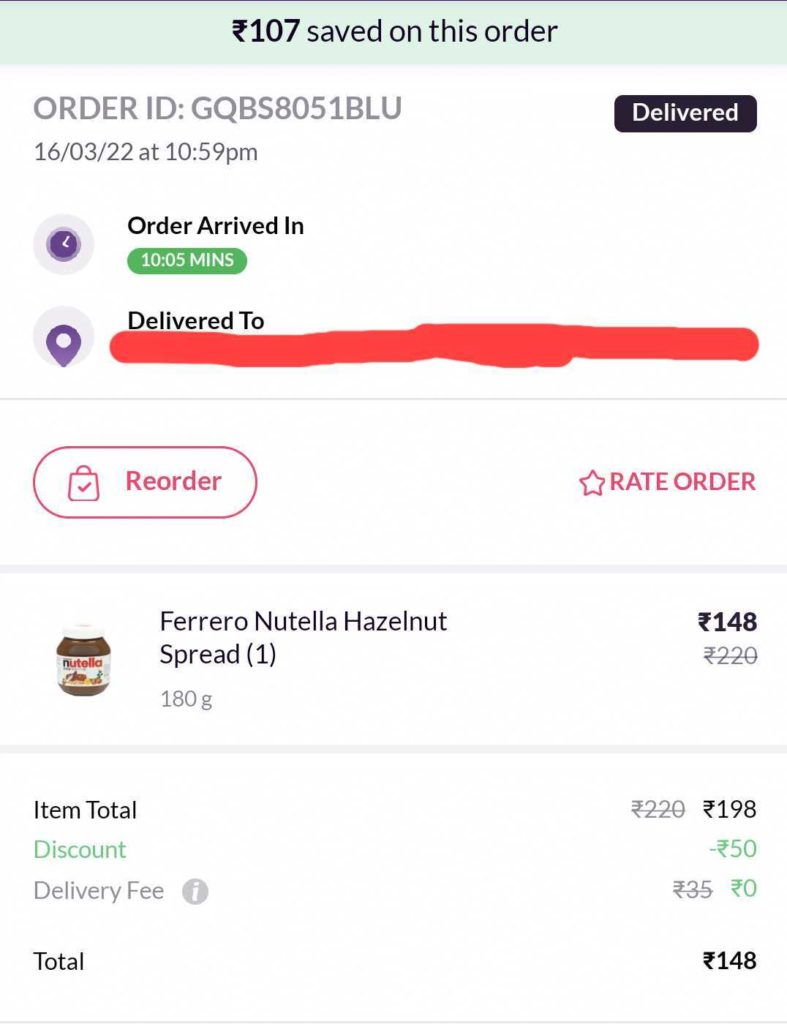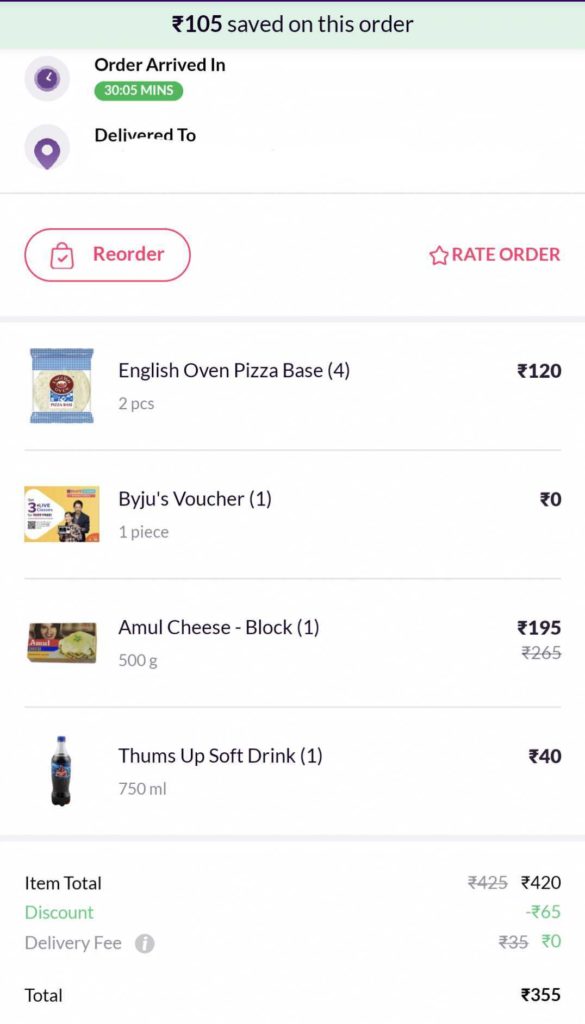 Swiggy Instamart
Swiggy Instamart is also an Instant grocery delivery app getting to you in 15-20 mins. You can save more here via Swiggy One membership which promises extra discounts on 1k+ popular grocery items and free delivery on orders above ₹99.
There are Swiggy Instamart coupons available which will get you discounts and free delivery. Swiggy Instamart new users can benefit from 50% discount and free delivery on first 5 orders. Others can save via bulk order coupons. Again, you will find all these at checkout. Also, they have pre-discounted grocery products. You can also save via Swiggy Gift Cards with upto 5% Cashback!
Grocery categories are similar to Zepto with inclusions of pharma and paan corner. For payment offers you can use Amazon Pay, Paytm, Mobikwik, HDFC bank credit cards, and AU bank cards. LazyPay and Cred Pay might also have some offers. Swiggy Instamart cashback offers might also be useful.
Here you can use Instant delivery or later delivery. The instant delivery fee starts from ₹18 while later one from ₹8. Usually Swiggy Instamart has a better product coverage and deals comparatively. Now let's checkout our orders and savings on Swiggy Instamart recently.
| | | | | | | | |
| --- | --- | --- | --- | --- | --- | --- | --- |
| Products | MRP | Swiggy Instamart Price | Coupon Discount | Final Price | Cashback | Final Effective Price | You Save! |
| Potato 2kg | tomato 2kg | pudina | spinach | ginger | cabbage | bharta brinjal | NA | 283 (64+56+16+35+31+46+37) | 134 | 149 | 22 | 127 | 156 |
| Britannia cheese garlic bread | Modern sweet buns | Modern supreme sandwich bread | Bingo mad angles Pizza-Aah, Bingo mad angles tomato | Kurkure | Too Yumm | Cheetos | Bingo | 190 (40+20+40+20+10+20+20+10+10) | 183 (40+20+40+19+10+18+16+10+10) | 31 | 159 | 23 | 66 (free DairyMilk Silk small) | 124 |
our orders and savings on Swiggy Instamart
Checkout these screenshots for proof.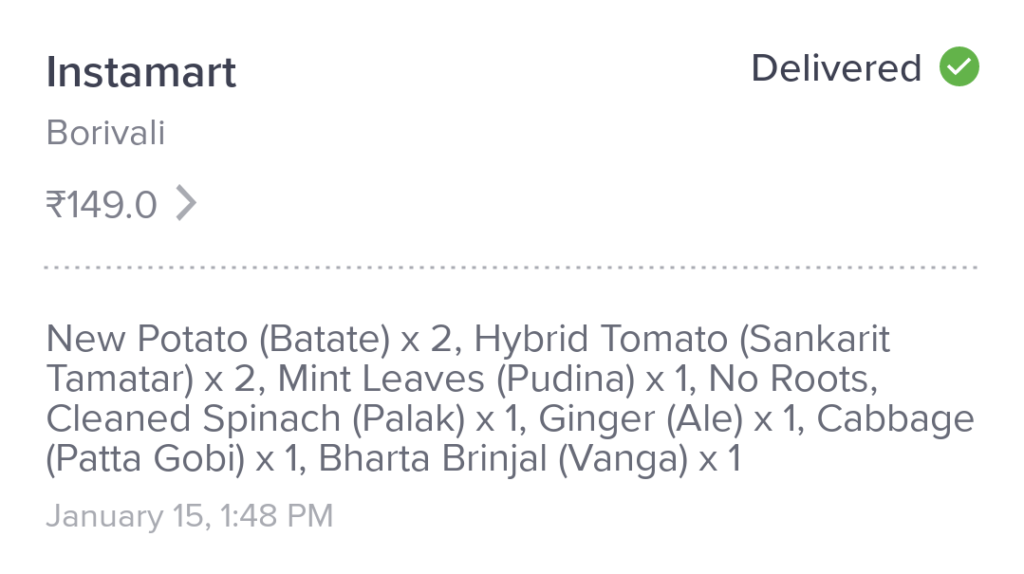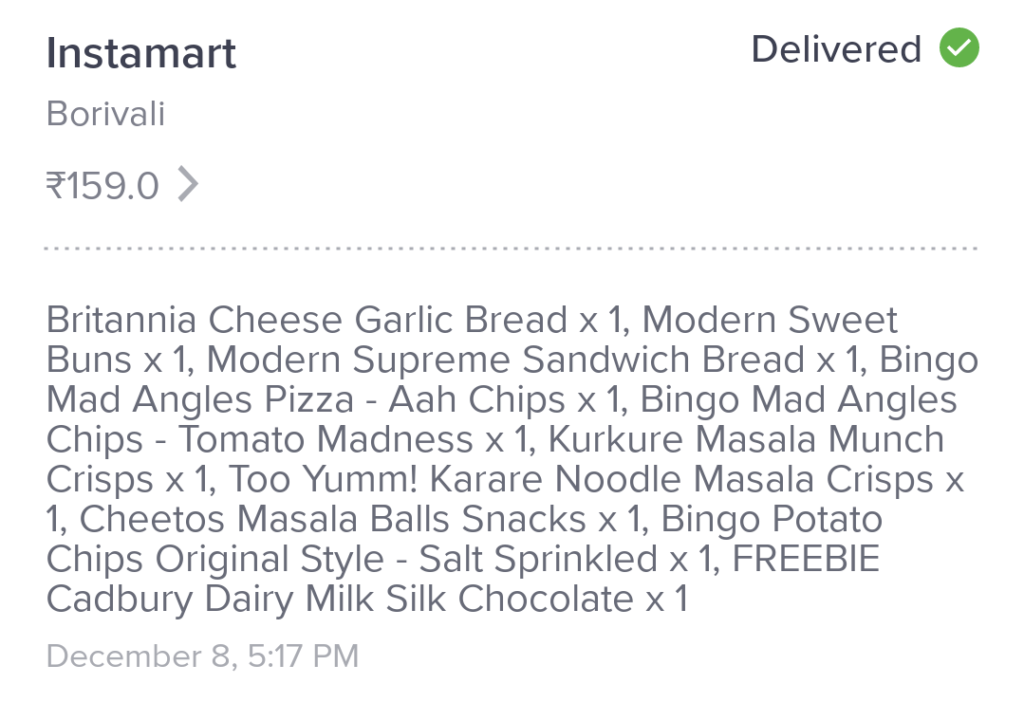 Amazon Fresh: Best Grocery Brands to Save on!
Amazon Fresh has daily deals on groceries and daily essentials. Moreover, there are bank offers and Amazon Pay cashback offers available on high order values. Amazon Prime members get free and fast delivery. Amazon has tied up with FreshToHome for meat food items so non-veg lovers have a lot to cheer about.
When you shop on Amazon via Zingoy, you earn additional upto 10.14% Rewards (keeps on changing) which are over & above the deals applied. You can use these earnings to buy Amazon Gift Cards for Free! Thus, grab these Amazon Cashback offers for extra savings on grocery & daily essentials.
Amazon Prime members can avail 2-hr delivery while others get 4-hr delivery on bulk orders. Besides, other orders take 1 day for delivery i.e. if you order today then you get it the next day. Also, same day delivery options are also available.
Delivery charges here start from ₹29. On orders above ₹600 you get free delivery. You can choose the date and time for delivery from 2-hr slots. Grab ₹25 cashback by choosing COD and paying via scan & pay for the 1st time.
The Amazon Pay ICICI Bank credit card is a great way to save here as it gets you 3% cashback everytime. You can also use your Amazon Pay balance to pay your grocery bills.
Dunzo Daily : Save on Grocery via Coupons
Dunzo Daily is yet another fine instant grocery delivery app. Here you get free delivery on orders above ₹199. Moreover, there are Daily Deals available. Dunzo Daily new users have great offers (50% discounts + free delivery) to choose from.
On the Dunzo app there are Dunzo Daily coupons which you can apply at checkout for more savings. Discounts go upto 20% along with flat discounts. Also there are Dunzo Daily cashback offers from Cred, Dunzo Pay Later (LazyPay), Simpl, and Paytm. You also get freebies from promotional brands just like the Garnier Micellar Cleansing Water and Lotus Herbal WhiteGlow Gel Creme.
Dunzo refer and earn is also a good way to save as you get ₹100 per referral. However, only 20% of it can be used per order. You can refer 10 people max. Another way to save more is to opt for later delivery. It saves you ₹5-20, and your order arrives in 75-90 mins.
What's bad here is that they apply a packing or handling fee ranging from ₹6-10. On the other hand, if you don't find your desired product then you can visit the 'Stores' section which hosts many nearby grocery and general stores. However, you won't be able to use Dunzo Daily coupons here for extra savings.
Here the delivery charge ranges from ₹15-40 (we got delivery fee of ₹28 for 1.5 km distance). Now, let's have a look at our Dunzo Daily orders and money saved!
| | | | | | | | |
| --- | --- | --- | --- | --- | --- | --- | --- |
| Products | MRP | Dunzo Daily Price | Coupon Discount | Final Price | Cashback | Final Effective Price | You Save! |
| Wagh Bakri premium leaf tea (500g x 2) | 560 | 540 | 100 | 440 | 100 (Simpl) | 340 | 220 |
| Maaza (150ml x 13) | 130 | 130 | 39 + free delivery | 91 | 11 (Paytm) | 80 | 50 |
our Dunzo Daily orders and money saved!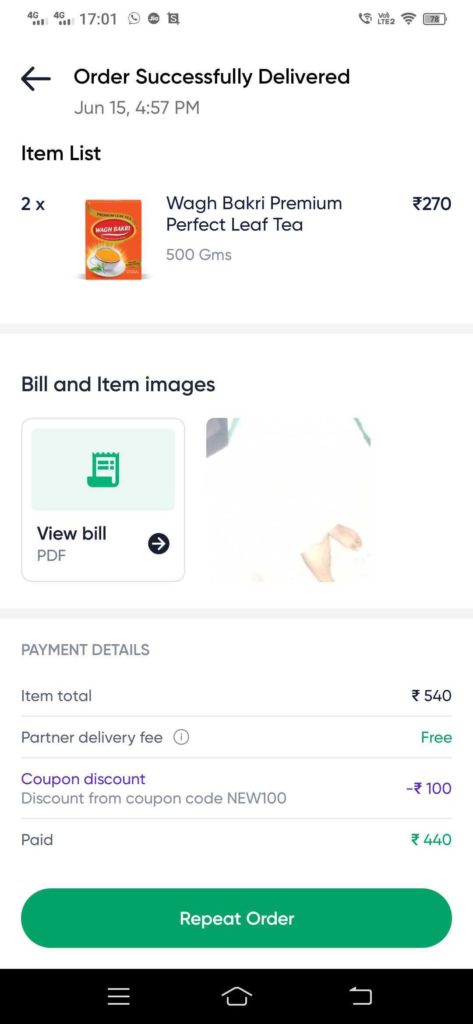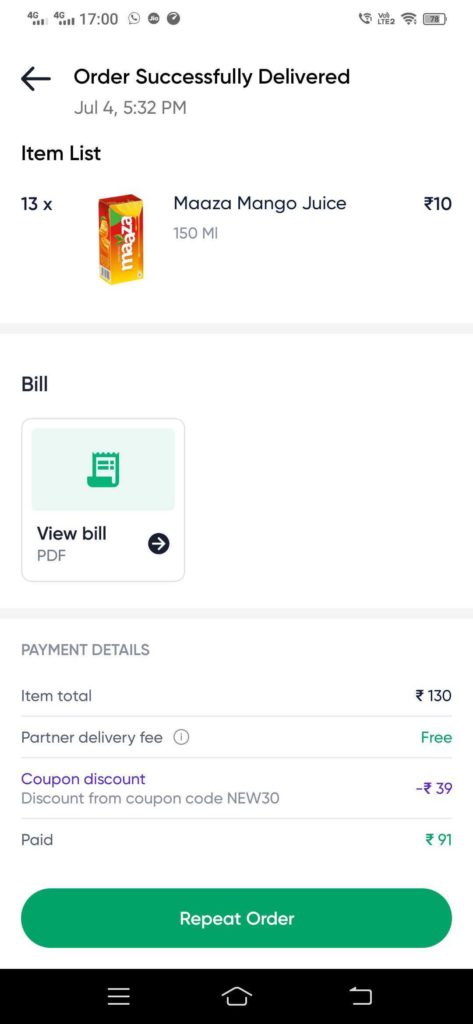 Blinkit: Save via Bank & Wallet offers
Blinkit gets you groceries and daily essentials home delivered within minutes. It has a huge category section. The best part here is that you will most likely find all your required groceries. However, savings are less likely here due to lack of Blinkit coupons.
Blinkit new users get a flat discount on a minimum purchase value. Others need to bet on bank offers and wallet Blinkit cashback offers from Paytm, Simpl, and Mobikwik. This all too on bulk orders of above ₹1000 or so. There are pre-discounted deals available which is the only pluspoint here in terms of savings.
Bank offers here can be on RBL bank, Bank of Baroda, HSBC, Axis bank, and Standard Chartered bank, and that too only on credit cards. Delivery charge is fixed at flat ₹35 for all orders.
BB Daily: Save on grocery bills via Cashback offers
BB Daily is a pure grocery delivery app from Big Basket. It is different from those instant grocery delivery apps. Here, you order once and get all things delivered the next day by 7 am or so (early morning). People mostly use it for fresh milk, fruits, and veggies.
BB Daily has a subscription program ranging from 15 days to 3 months (can pause & resume deliveries anytime). You can save big on these by applying BB Daily coupons, and also on one-time buying. You will find these in the homepage banners or during checkout.
What all you find on Big Basket is most likely to be available on BB Daily. You can save more via payment cashback offers by Paytm, Mobikwik, Freecharge, Airtel Payments Bank, and Ola Money Postpaid+. The BB Daily deals are good comparatively. Also, it includes the best grocery, personal care, and daily essential brands.
Flipkart Grocery: ₹1 deals and more!
Flipkart Grocery is similar to Amazon Fresh. Here also there is free delivery on orders above ₹600. Delivery takes a min of 1 day for others while Flipkart Quick users get it in 2 hrs. Delivery fee starts from ₹50. Checkout Flipkart Cashback offers for add-on savings.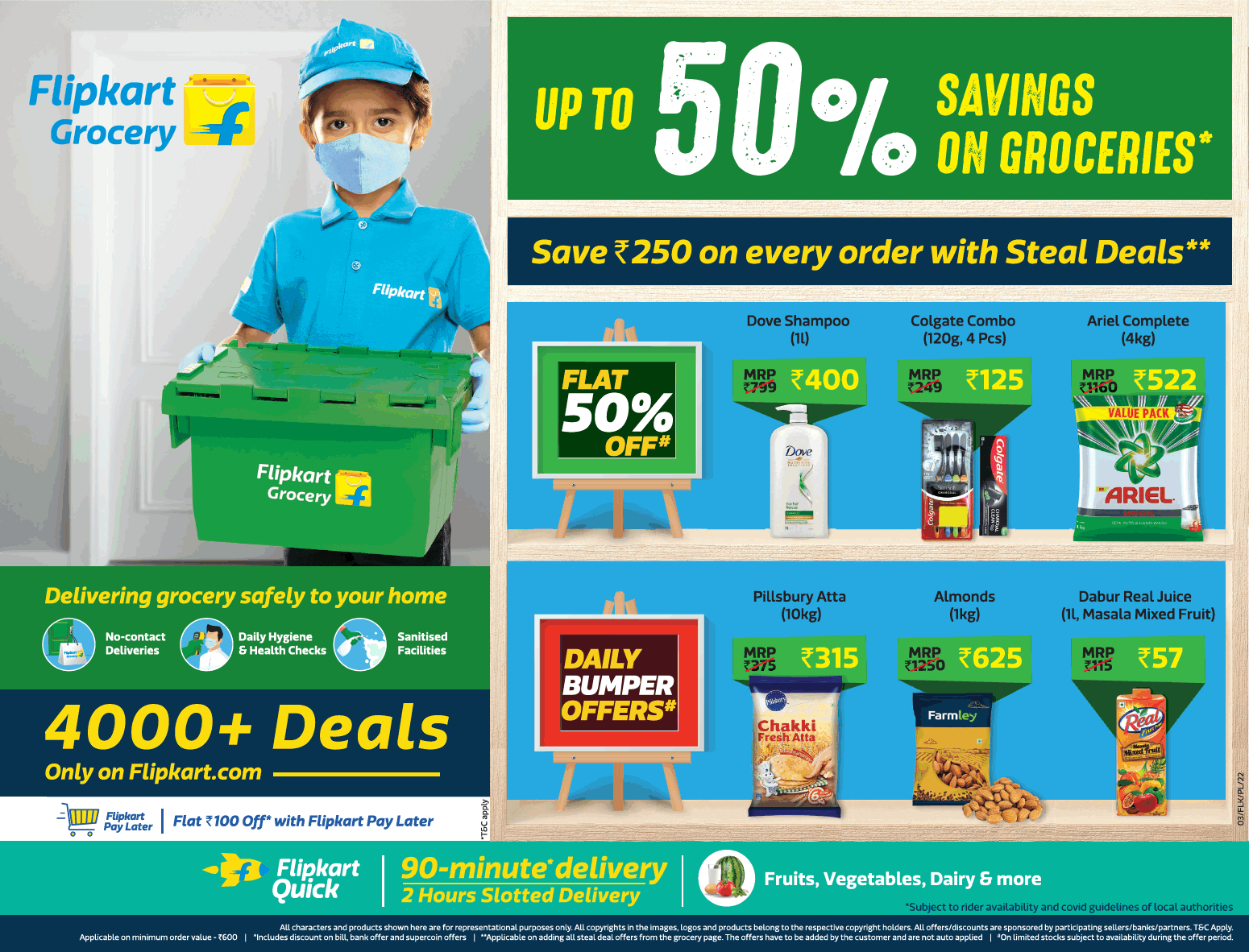 If you want to save here then the Flipkart Axis Bank credit card is the best option as it gets you 5% cashback everytime. Moreover, bulk orders get steal deals like 1kg sugar for ₹1. You can pay via Paytm, PhonePe, or Flipkart Pay Later. Besides, you earn Flipkart SuperCoins which can be redeemed for recharges, shopping, OTT subscriptions, and many other exciting deals. Here are the Flipkart Gift Cards you can consider.
Big Basket
You can save on Big Basket via bank offers, wallet offers (Paytm), Tata Neu Pass, Buy More Save More, and BB wallet offers. RBL, IndusInd, DigiBank, and other banks have Instant discount offers. There are also Big Basket voucher codes that can be redeemed. The delivery here takes 5-hrs to 1 day. You can also use Tata Neu Coins for more savings. Stay tuned for Big Basket Cashback offers! There is also a upto 2% cashback (keeps on changing) on Big Basket Gift Cards!
There are many more grocery delivery apps available so you can check them out. We hope you find this content useful for saving good on groceries and daily essentials!
Summary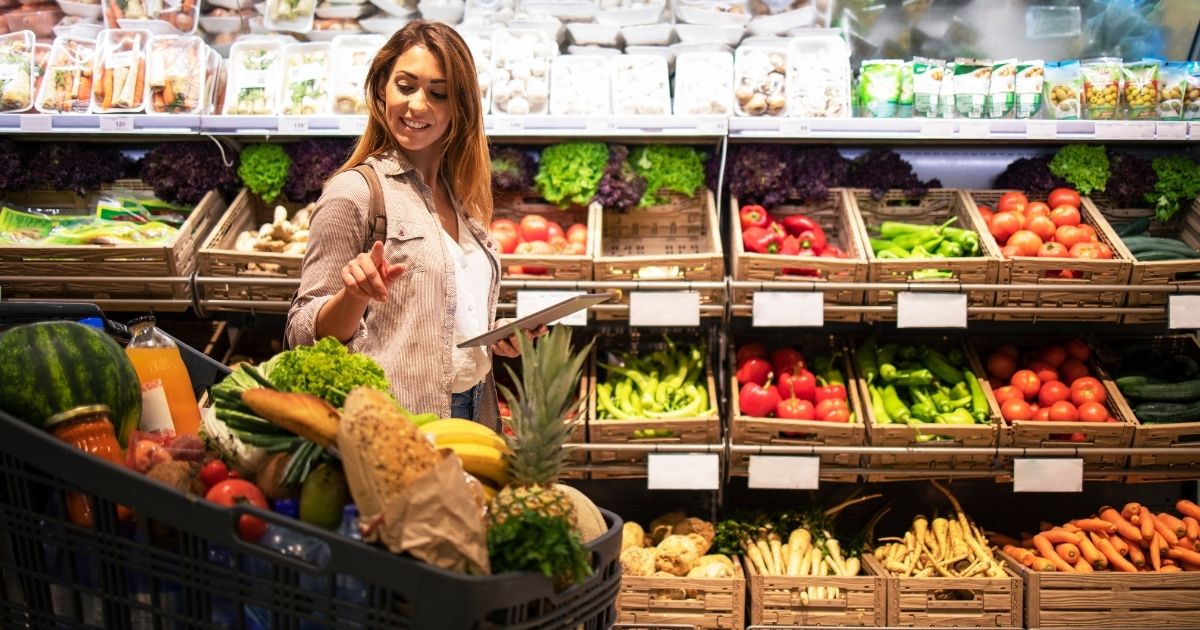 Article Name
How to Save on Groceries and Daily Essentials in India?
Description
Save Big on your Daily Essentials bills via Grocery Delivery Apps in India by applying offers and coupons!
Author
Publisher Name
Publisher Logo