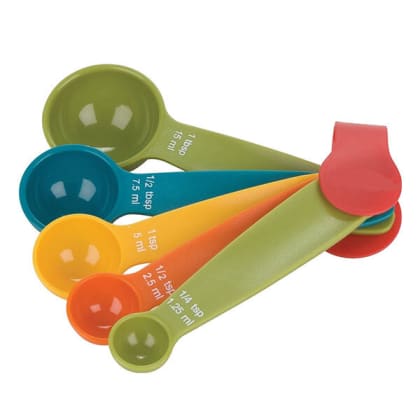 5pcs Mini Measuring Spoon Set- Multicolour
Free Delivery in 5-7 working days
This set of cooking measuring spoons contains 5 different color-coded sizes for easy identification.
Space-saving design, cups snap together securely so you dont loose any spoon.
Made of strong corrosion resistant plastic and is dishwasher safe.
Ideal for Measurement for Cooking & Baking purpose.
Also use it as coffee spoon,iced spoon,sundae spoon etc.
Specification:
Package Includes: 1 Set Of 5 spoons
Sizes:  1/4 Teaspoon (1.25 Ml), 1/2 Teaspoon (2.5 Ml), 1 Teaspoon (5 Ml), 1/2 Tablespoon (7.5 Ml), 1 Tablespoon (15ml)
Colour- Multicolour
 Material- ABS Plastic
Seller Information
Sold by
Zingoy Rewards Private Limited
Non Cancellable
Non Returnable
Want to buy this product in bulk?
Want to sell your products?